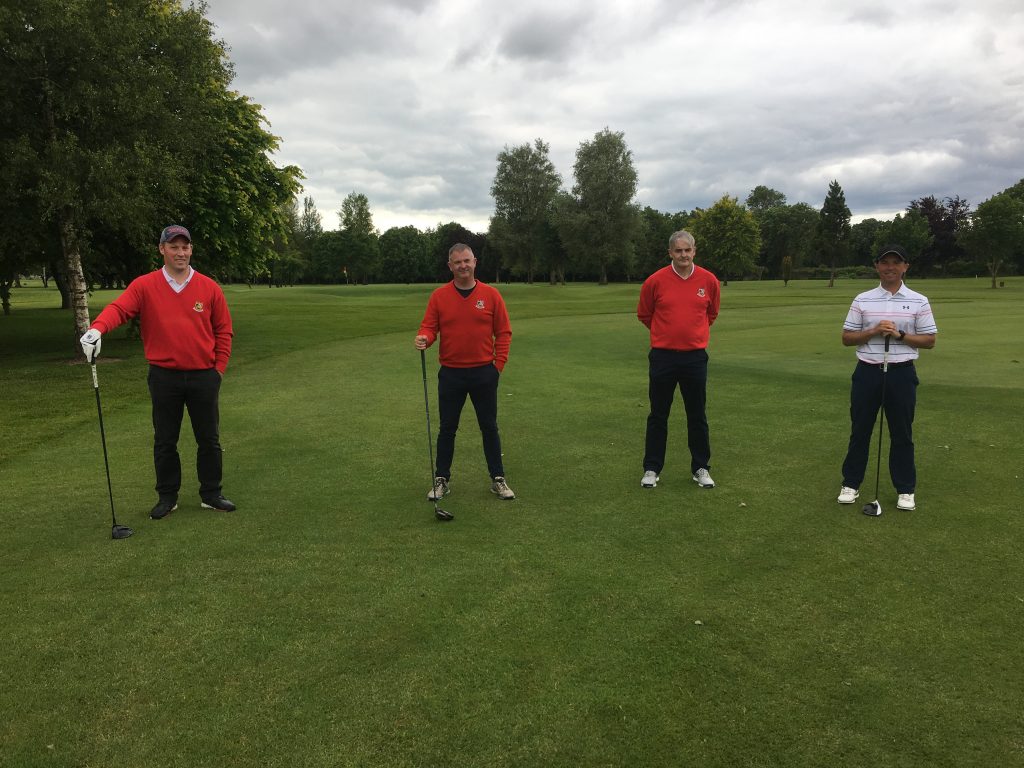 Ciaran Hassett, Philly Ryan, John McGrath, Keith Morris
Templemore Golf Club News
The last week was a fantastic victory week for the club with two great first matches wins in Inter Club Competitions under the new Golf Ireland Rules the Fred Perry and the Jimmy Bruin.
Both Matches were home and away.  The Fred perry match was played on Wed. 23rd.  versus Tipperary Town.  3 at home and 2 away.  Both matches were very competitive with the away team narrowly defeated on the last 18th. Hole and the home team having a unanimous victory with all 3 teams winning.  Congratulations to the team Manager Dinny Touhy the team and Denis Maher, Padraig Moloney, Tom McGrath, Liam Daly, Mick Keely, Ted Kennedy,  Bertie Keane, Ambross Purcell, Joe O'Connor, Declan Russell.  Congratulations to all
The second inaugural competition was the Jimmy Bruin, played on Thursday 24th. Another victorious account by Templemore versus Slievenamon with a win on all three matches away, one at home and halved the last match.  Congratulations to the Team Manager Padraig Moloney and the the victorious team, Philly Ryan, John McGrath, Ciaran Hassett, Keith Morris, Tommy Murphy, Declan Russell, Declan Kennedy, Ger Clifford, Timmy Tuohy, Shane Russell. A fantastic victory by both teams and a proud week for Templemore Golf Club.
Competition Results.
27th June. 18 Hole Results.  1st. John Mullally 40pts. (better back nine) 2nd. Keith Mullally 40pts. 3rd. Pat McCormack 40pts. see Master Score Board for full results. Next week 18H stableford top 16 qualify for Seamus Cody Matchplay competition.
Ladies 18 Hole Stableford.
Tuesday 15th. June.  1st. Lorraine Ryan 39pts.  2nd. Shelia Delaney 37 Pts. Mary Lou Carroll 35pts.
Covid 19 Guidelines.
Reminder.  Players must sign in at the clubhouse door before teeing off.
Membership Subs.
Reminder.  Fully paid Members only will be able to book play on the Tee Times Web Site. Options to pay are all on the website.   All visitors are welcome contact 0504-31400.
50/50 Draw;
27th June 50/50 lotto. J ohn Egan €200.
Seniors Golf;
24th. June.  The place to be this morning was with the Seniors where it all happened. Great scoring with the winners on 57pts. and four other teams on 54pts. We also had a Hole-in-One from our seniors treasurer Les Mason. Not to be out done our Sec Pat O'Connell won the 50/50 last weekend. I must have fallen off the Bus. Back to golf results, this mornings seniors, in first place with 57pts. were Gerry Keegan, George Collins, Mick Connell, and Paddy Nolan. In 2nd. place on a count back with 54pts. were Ambrose Purcell, John Galvin, Christy O'ROURKE, Tommy Deegan, in 3rd.place also with 54pts. were Donal Golden, Pat Maher Mick Murphy, and Seamus Ryan. I would also like to take this opportunity to congratulate our teams victory over Tipp Town and Slievenamon last week.
Future Competition Dates;
Next week 18H stableford top 16 qualify for Seamus Cody Matchplay competition.
Captains & President Prize Dates;
Captains Prize weekend 16th. 17th. and 18th. July.
Presidents Prize 14th. 15th. August.
Social mixed. Rescheduled to this Thursday 5:30-7pm instead due to match fixed for Wednesday, entries by 6pm this Tuesday.