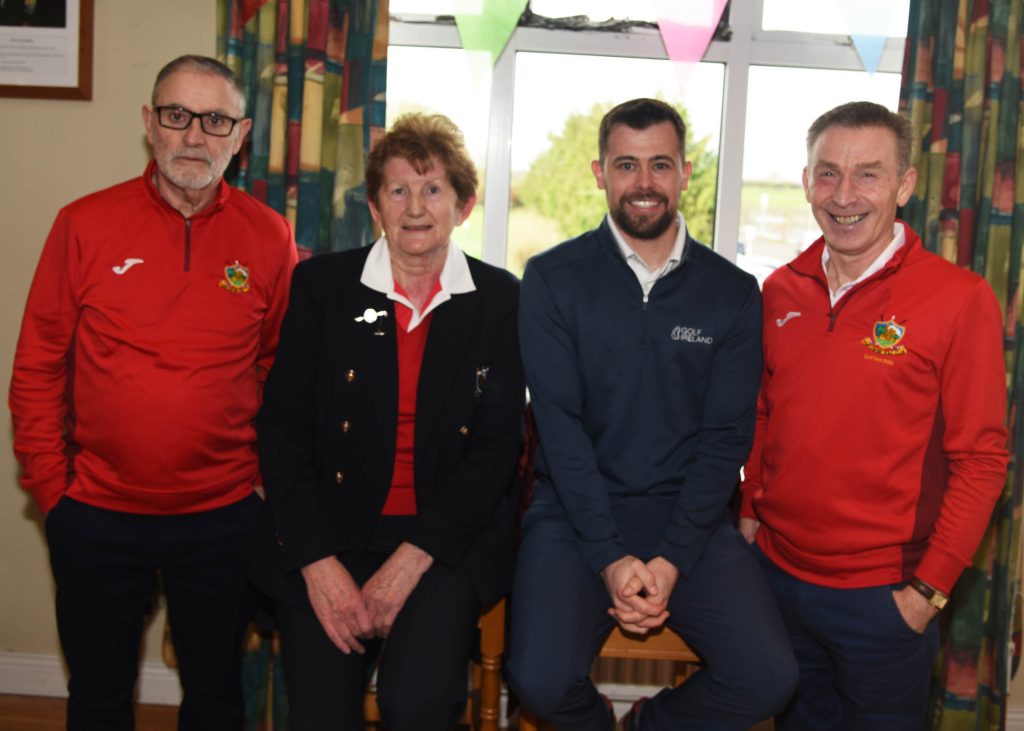 Templemore Golf Club, Ladies "Get into Golf" Day.   L.R. President Rody Cawley, Lady Captain Mary Gilmartin, Sam Smith Golf Ireland Munster Development & Club Support Officer, Captain Declan Kennedy (Photo by Seamus Bourke)
Recruitment of new members on Sat. 1st. April.
"Golf is for everyone"
Congratulations to Lady Captain Mary Gilmartin and all the ladies committee for organising today's "Get Into Golf" programme for the ladies. The event was attended by Sam Power, Golf Ireland Munster Development Officer. It was a wonderful success. A brilliant turnout of nearly 50 new ladies who are now enrolled in the program. It was a historical response by the turnout and organisation of the event.  Sam Smith from Golf Ireland was very impressed and noted that Templemore was the 1st club in Munster to activate the Ladies Get into Golf programme,  and its success will set a standard for other clubs in Munster.  We also had some new gents joining on the same day. It's great to see the Club moving in such a vibrant positive direction.  The next stage of the programme will be on Sat. April 15th.
Spring League.
Spring League,  Round 3, 3 to count. Round 4, 4 to count on last 3 holes.  League Ends on April 9th.  Teams Results are now posted in the men's locker room and via WhatsApp. If you have any queries please contact Sean Lee on 087 221 8506 good luck and enjoy. The Competitions Committee.
Week End Competition.
2nd. April.  On the first weekend in April the spring weather smiled on the 14 hole Stapleford competition and the winner on countback with 31 points was Liam Leahy.
Inter Club Competitions.  Team Captains & Vice-Captains.
AIG Men's Jimmy Bruen Shield – Captain, Padraig Moloney , Vice- Captain, Denis Maher
AIG Men's Pierce Purcell Shield – Captain, Tom McGrath, Vice -Captain, Dinny Tuohy
AIG Men's Fred Perry Trophy Captain – Liam Leahy, Vice – Captain, (not picked)
Flogas Irish Mixed Foursomes – Captain's Declan Kennedy & Mary Gilmartin, Vice Captain Les Mason
Boys' Fred Daly Trophy – Captain, Pat O'Connell, Vice Captain (not picked)
J.B. Carr Tournament – Captain, Michael Carey,   Vice-Captain, Liam Daly
Munster Country Clubs Cup – Captain, Seamus Bourke
Mixed Foursomes Roscrea Golf Club – Captain's Declan Kennedy & Mary Gilmartin
Seniors.
30th. Mar.  We had 6 teams out this morning on a grand day for golf. 1st. 51pts. John Kirwan, Pat O Connell, Jim Gilmartin. 2nd. 50 pts. on a count back Ambrose Purcell John Galvin, Mick Murphy, Colm Dooley. 3rd. also on 50 pts. Paudie Butler, George Collins, Tony O Toole, James Murray.
50/50 Draw.
The 50/50 Draw is also available online for anyone who cannot make it to the club. http://templemoregolfclub.ie/membership/ [templemoregolfclub.ie]   Scroll down to the end of the FEE categories and select the 50/50 Buy Now.
Fees for 2023 are now due.
Full Member €350.  Couple €500.  Retired-unemployed couple €450.  Family (2Adults+their 2 children under 18yrs) €550.
Country Member €250. Beginner 2023 (1st.yr. 250) ( 2nd. Yr. 350).  Beginner Couple (1st.yr. 400) (2nd. Yr. €500). Students 3rdLevel College & Garda Students €125.  Juvenile (under 18yrs) €75.  Retired-Unemployed & Clergy €300.  Distance (outside 50k) €175.  Green Fees (no reduction for 9 holes) €20.
FEE Payment Options.
Club House: Use "FEE" drop box in Locker rooms.
On Line: http://templemoregolfclub.ie/membership/ [templemoregolfclub.ie]Select your Category and proceed by Pay Pal OR by Credit Card.
On-Line Banking Transfer; IBAN; IE21BOFI90445678133532, BIC; BOFIIE2D.
Contact any committee member.
Dates for your Diary. 
Getting into Golf. The next stage of the programme will be on Sat. April 15th.
SPRING League. Round 4, Finish on April 9th.
Seniors.  Every Thursday 10am. Refreshments afterwards in Club House.