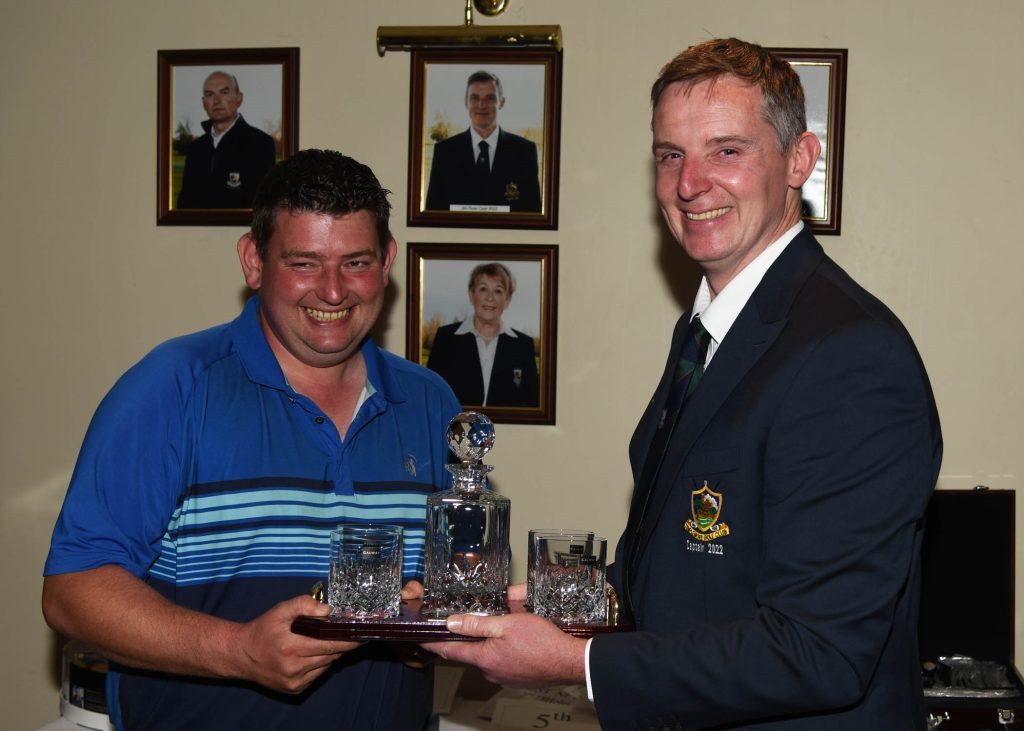 Templemore Golf Club Captains Prize winner, Gerry Keegan Jnr.  Presentation by Captain Jim Ryan. (Photo by Seamus Bourke)
Historical New Chapter for Templemore Golf Club.
Fri. 16th. Sat. 17th. Sun. 18th. September.  Templemore Golf Club will celebrate a "historical new chapter" in its development.  On 21st July 2022 the Club signed a 21year lease with the OPW, this now means that the Club has its own "Autonomy".  To mark and celebrate this new chapter, the club will hold a "Golf Classic" on Fri. 16th. , Sat. 17th., and Sun. 18th. September, with prizes in excess of €2000.  Donations can be paid trough the web site "Fee" /Donations, or bank transfer to IBAN, IE21BOFI90445678133532.  BIC, BOFIIE2D.  All donations will be very much appreciated.
Captains Prize Complement by Jim Ryan.
Thanks to the Men's committee for their help through the year, special thanks to Pat O'Connell, Sean Lee, Les Mason and Declan Russell for their help over the weekend. Thanks to Paul Tuohy and Centra for providing food. Jim thanked he's wife Juanita for picking prizes and helping with the catering over the weekend. Thanks to Martin Bohan for he's help throughout the year for locking the clubhouse.  The captain complimented the excellent condition of the course thanks to Liam Leahy and Dinny Maher, Michael Webster and volunteers.
Bank Holiday Weekend Competition Results.
30th. 31st.  July.  18-hole Stableford competition.  1st. with 40 points, Brendan Russell. 2nd. with 39 points, Noellie Maher, and 3rd. with 38 points, Les Mason.
Mary Butlers President Prize.
6th. Aug. Reminder that the Ladies President prize is this Saturday 6th Aug,  Tee reserved from 11am to 5pm. No casual play Please on both days.  Casual play on Sunday only.
Social Mix
27th. July Social mixed Results.  1st: Ml Webster,  Eamonn Connelly, Mary O'Connor.  Gross: John Kirwan, Ml. Purcell, Liam Daly.
Ladies 18hole Stableford.
26th. July.  1st. Mgt. Degan, 44pts., 2nd. Della Ryan 39pts., 3rd. Mary Ryan Mary Hogan 39pts..
Juvenile lessons.
Just to remind you that Juvenile Lessons will commence on Tuesday 12th July at 10 am followed by Ladies lessons at 11 am.   Contact Pat O'Connell, 087 9205821.
50/50 Draw.
50/50 Draw was carried over to next week. The 50/50 Draw is also available online for anyone who cannot make it to the club.  http://templemoregolfclub.ie/membership/ [templemoregolfclub.ie]
Seniors Results.
28th. July.  Another fantastic golfing Thursday morning saw 7 teams bringing in grand scores. In first place with 56 points, Liam Daly, Tom  Hogan, Colm Dooley, and Michael Ryan.  In second place with 53 points. Mick Carey. George Collins. Les Mason. and Willie Haverty,  And in Third place on count back 52 points, Donal Golden, Mick Maher, Jim Casey, and Micheal Healy.  Golf as usual next Thursday and a reminder we have the outing to Rathdowney on Friday 5th Aug.
Seniors in Rathdowney.
4th.July will be the normal Thursday morning and the second outing of the year to Rathdowney Friday 5th August . We will be doing both draws on Tuesday evening so when entering your name can you let us know if you would like to be Thursday or Friday or Both thank you. The cost for Rathdowney will be €30 this includes round of golf, meal and prizes.
Golf is for Everyone, membership Fees.
Membership is now due. No fee means no entry to club competitions going forward, Master Score Board for Tee Bookings and Members WhatsApp.
Fees can be paid to any committee member, or placed in the FEE Box in the Locker room.  Alternative, you can pay on the web site.  http://templemoregolfclub.ie/membership/ [templemoregolfclub.ie]  All fee rates are on the Web Site.
Golf for Everyone Competitive Membership Fees in Templemore.
Gent/Lady.   €300.  Husband & Wife/Partners. €450.   O.A.P. Husband & Wife/Partners. €350.  Family (Children under 15yrs.) €500.  Country Member. €200.  Beginner (Lady/Gent). €200.  Husband & Wife/Partners Beginners.  €350.  Student 3rd Level & Garda Student.  €100.  Juvenile (Under 18yrs).  €50.  OAP & Clergy. €250.  Distance (Outside 50K)  Lady & Gent.  €150.  Green Fee. (No Reduced Fee for 9 holes).  €15.   Visit the club web site for on-line payment or contact any committee member.
Future Competition Dates.
Mixed Social.  Every Wed..
Seniors. Every Thursday 9 AM.
Others Dates for your Diary.
Mary Butler Ladies President Prize Saturday 6th. August.
Vice Captains 13th. & 14th. August.
Presidents Prize, 3rd. and 4th. September..0
Golf Classic.  Fri. 16th. Sat. 17th. Sun. 18th. September.