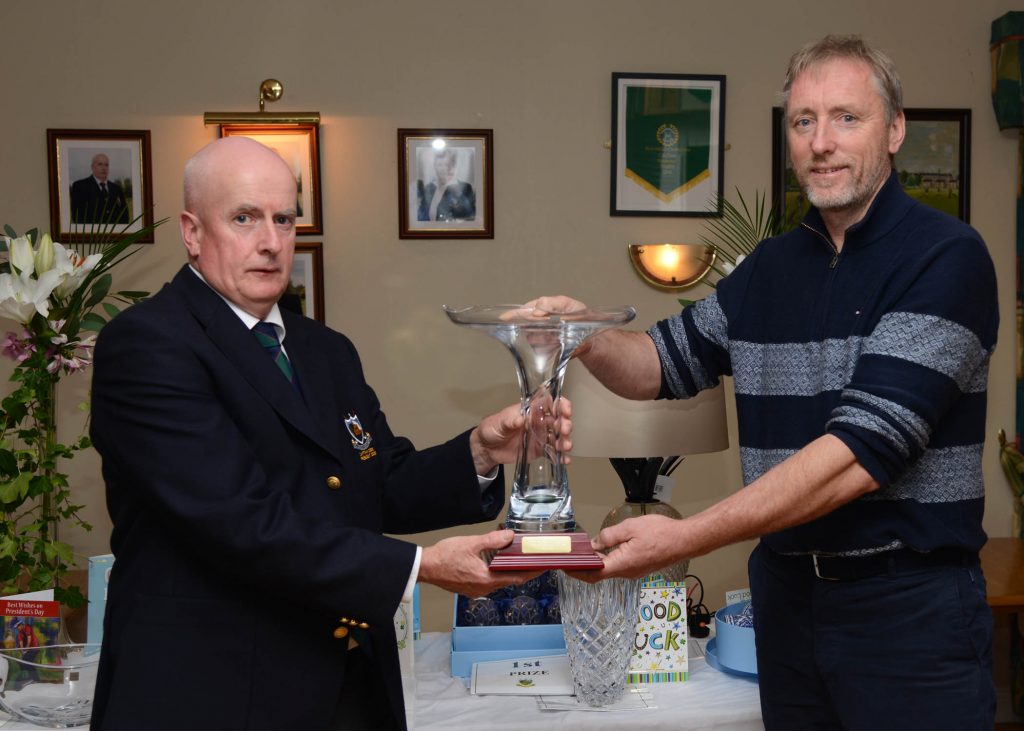 Above Photo;  Templemore Golf Club, President Pádraig Moloney, Presentation of President Prize to Michael Delaney.  (Photo by Seamus Bourke)
Templemore Golf Club News; 
Sat 3rd. Sun 4th. Oct. V Par competition.  There is a great loyalty support to this event. This week winners. 1st. Brendan Collins.  2nd. Joe Hennessy.  3rd.  Les Mason.
18hole V-Par competition again next week-end, Sat 10th. Oct. and Sun. 11th. Oct.
Ladies Seniors 28th. Sep.  Results;  Winner Anna Russell.  2nd. Mary O Connor.  3rd. Margaret Buckley.
Men's Seniors Thurs 17th. ;  The following are the results according to the scores recorded on the cards received. 3 cards registered a score of 51pts. so on a breakdown this weeks winners are, Ger Clifford, Donal Golden, Les Mason, and Philip Ryan. In 2nd. place, Dinny Tuohy, Paudie Butler, Pascal Whelan, and Willie Haverty.  In 3rd. also with 51pts. were Seamus Bourke, John Mullally, John Kirwan, and Jim Gleeson. Our next away outing will be in Tipp Town on FRIDAY 30TH OCTOBER. Tee will be booked from 10 am to 12.00 noon.
50/50 lotto week 4th. Oct.  Winner,  Pádraig Moloney.
Dunbeg Outing;  Best of luck to all travelling to Dunbeg on Tuesday 13th.  Event organized by former club Captain Tommy Foley.  There is a fantastic response to the event to challenge the defending champion Gerry Keegan.
New On-Line Tee Booking System;   The club new "Online Booking System" can be accessed on our Web site; www.templemoregolfclub.ie  no access to the course will be allowed without booking through the new system also registering on the "Covid-19 Tracing Register".  Visitors can contact info@templemoregolfclub.ie to request Tee times or link up with an existing member.
New Members are more than welcome.
Select the "New Members" tab on the web site and complete the ONLINE application form and select submit.
Then select the "FEE" tab and proceed with payment.
If any difficulty contact Tony by text @ 086-8209991.
Make Golf a Life Changing Gift;   Give a life changing Sport experience to someone.  The Ideal gift for anyone who would like to take part in an active exercise sport.  Golf is that Ideal Gift.  Buy a membership Voucher now.  Contact Pat O'Connell 087-9205821 or any of the committee for to purchase the "Ideal Active Present".
Golf Active in Retirement for 2020;  For the active retirement, this is an excellent activity.  You will be more than welcome.
Why Join;
Good Outdoor Exercise; 9 holes + 2hrs.  18 Holes = 4hrs.
Good Social occasions, Presentation Nights, Social Mixed, Senior Events and Away Trips.
The Handicap System allows members of different abilities an equal chance of winning.
Various Category of Memberships are available at different rates.  ( see Membership rates on our web site).
The club will assist you in starter clubs to get you going.  Contact any current member for assistance and you will be looked after.
Private Donations for Course Development;  Donations, sponsorship, will be greatly received now that the club will have its own autonomy and will be used exclusively for Course Development.  Put your stamp on the course making a special contribution.  For Donations, Just select the "FEE" tab and then select "Make a Donation" tab on the Club Web Site http://templemoregolfclub.ie/membership/ , or in confidence contact; Club Captain Tom McGrath 087-1147666.
Next Fixtures;
18hole V-Par competition again next week-end, Sat 10th. Oct. and Sun. 11th. Oct.