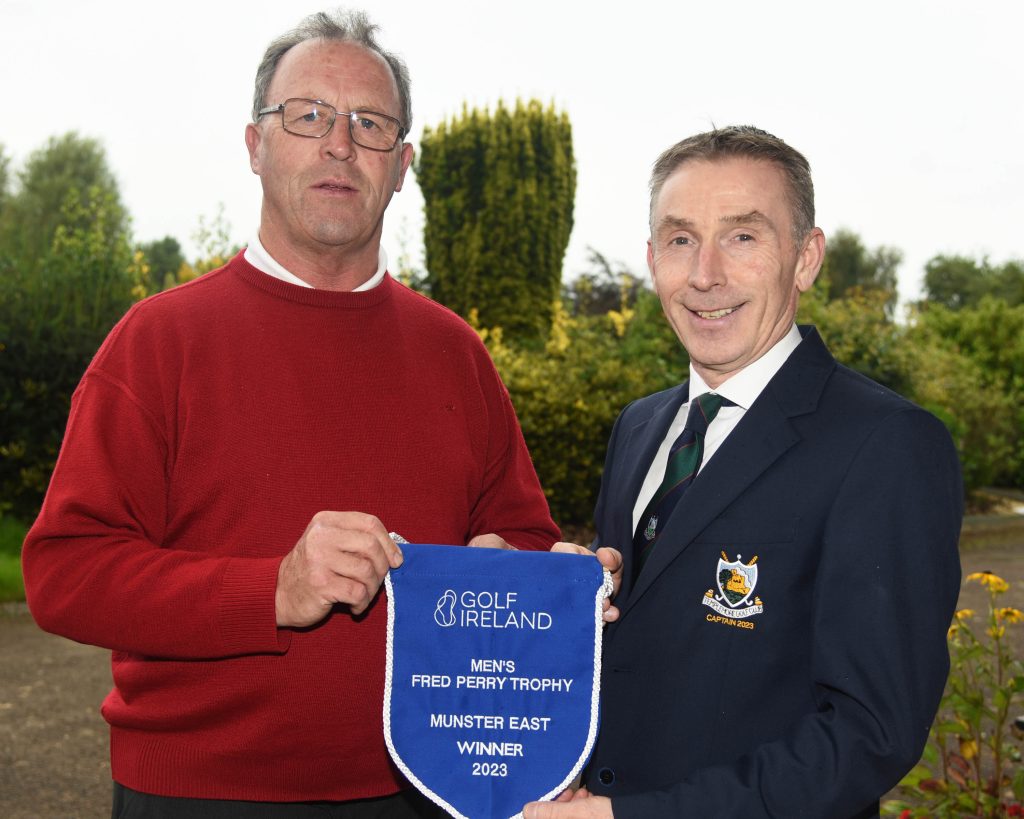 Templemore Golf Club,  Munster Winners of the Golf Ireland, Fred Perry Inter Club Competition 2023. Team Manager Liam Leahy, Club Captain Declan Kennedy. (Photo by Seamus Bourke)
REMINDER; President Rody Cawley Week-end.
25th. Fri. 26th. Sat. 27h.  Sun. August.  The Rody Cawley President 18hole Stableford week-end.  Reminder to note in your calendar for full support.
Weekend Competition.
7th. Aug.  Bank Holiday Results.  1st. Frank Russell 39pts.  2nd. Padraig Moloney 38pts.  3rd. Liam Daly 33pts.
Ladies 18 Hole SF Sponsored by O'Dohertys Hardware.
1st. Aug. Winners, 1st. Sadie Tynan, 2nd, Mary Hogan, 3rd, Marian Hodgins.
Men's Senior Golf.
3rd Aug. Thurs.  Once again, the weather was changeable different hole to hole, but eight teams of hardy soles set out and they were very evenly matched with the top three teams all having 55 points separated on countback. In 1st. place was Paudie Butler, John Mullally, Christie O'Rourke and Paddy Nolan. 2nd. Eamonn Connolly, Colm Dooley, Tom Hogan and Eoin Wholahan.  3rd. Pat O'Connell, Tom Ryan, Jim Casey and Jim Middleton.  A date for the August Diary Tuesday 15th our trip to Tipperary Town Cost € 30 for the round and meal.
Senior Ladies.
7th. Aug. Mon.  Winners of Ladies President Scramble, 1st.  Anne Russell, Josephine Lyons, Breda Ryan,  2nd. Pauline Purcell, Mairead Mc Grath, Kathryn Connolly.  Well done to all.  Contact Mary O'Conner.  086 8813898.
Juvenile Academy.
7th. Aug. Monday.  Lessons will continue on Mondays at 10 am. Cost €5. Lessons for Beginner Ladies will follow at 11 am. It is hoped to run the lessons for 6 or 7 weeks.  Contact Pat O'Connell 087-9205821 by Text or just arrive on the day at 9.45 am.
Club GreenView Restaurant.
Open on Thursday, Fri, Sat, Sun. 10am to 5pm.  Contact Liz 086-3916800 for bookings.
Sympathy.
The club extends its sincere sympathy to our secretary Pat O'Connell (Past Captain) and his family on the passing of his brother Peter O'Connell, Portarlington.  May Peter rest in peace.   Jim Hickey past Captain 1995,  Passed away recently.  Sincere sympathy to all the Hickey family.  May they both rest in peace.
 Dates for your Diary. 
12th. Aug.  Sat. Lady's Presidents Day.
25th. 26th. 27th. Aug.  Rody Cawley President weekend.
27th. of August. Sun.  Country Clubs National Competition, in Lismore.
1St. Sept.  Fri, Sat, 2nd, Sun, 3rd, Sept. Classic Weekend.
Social mixed will continue on Wed's at 6pm.
Seniors.  Every Thursday 10am. Refreshments afterwards in new Club House "GreenView Restaurant".