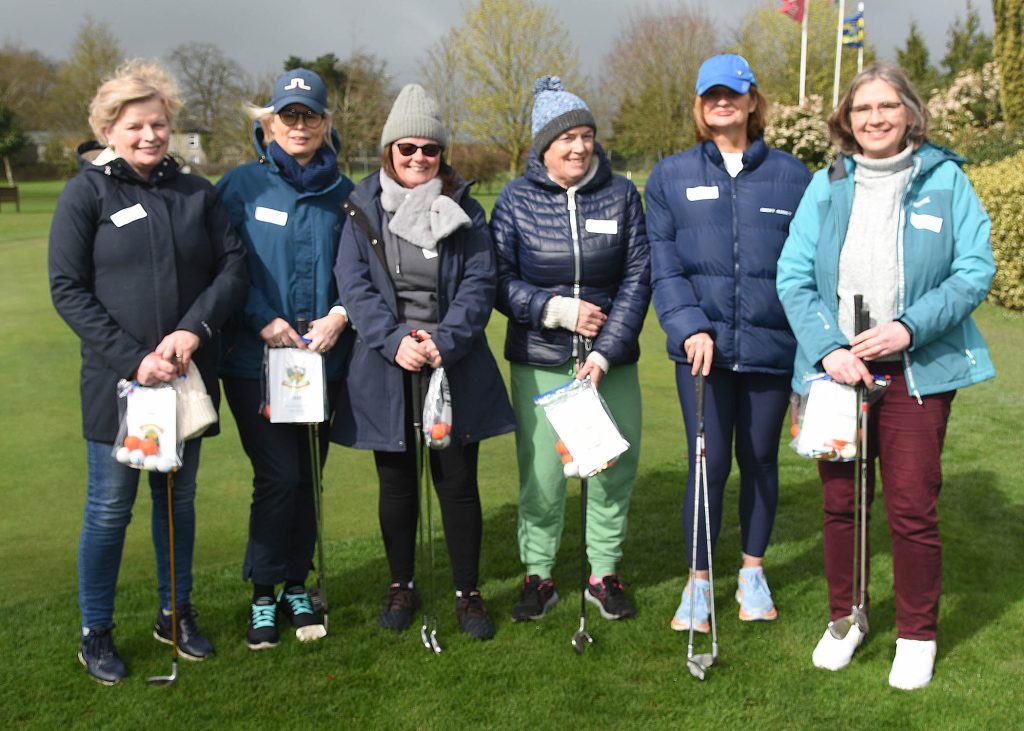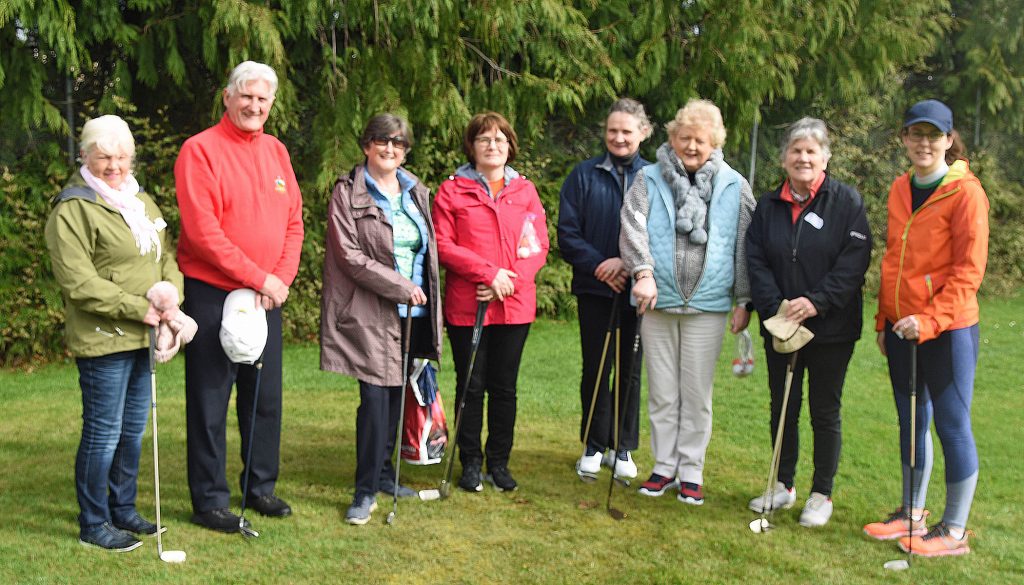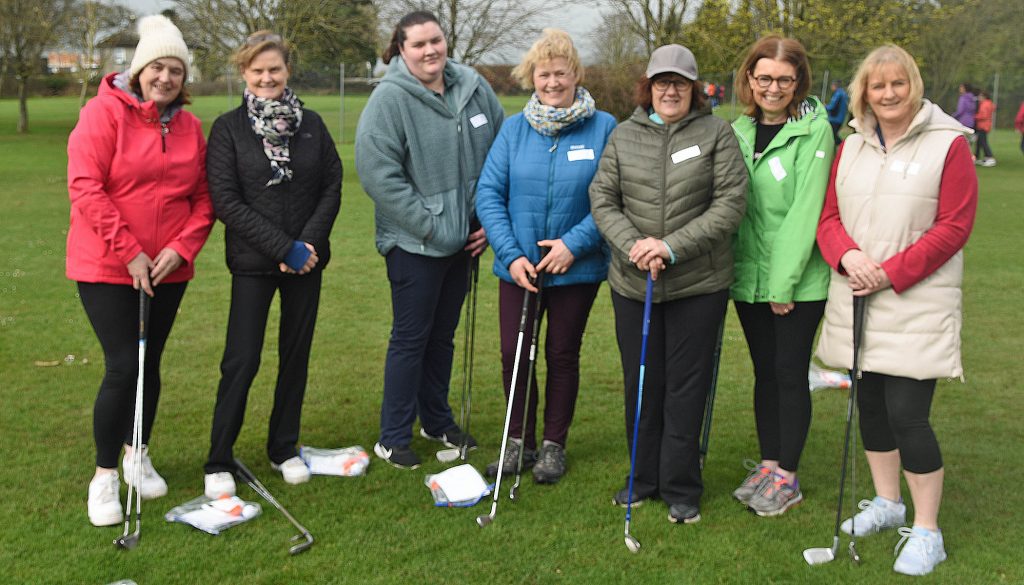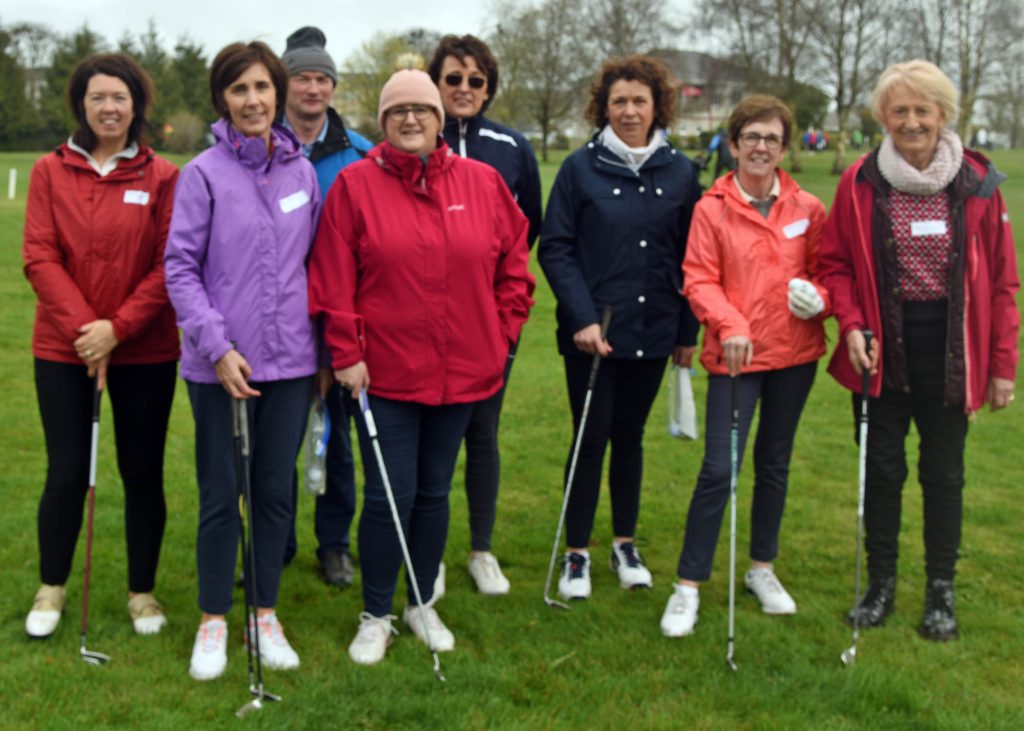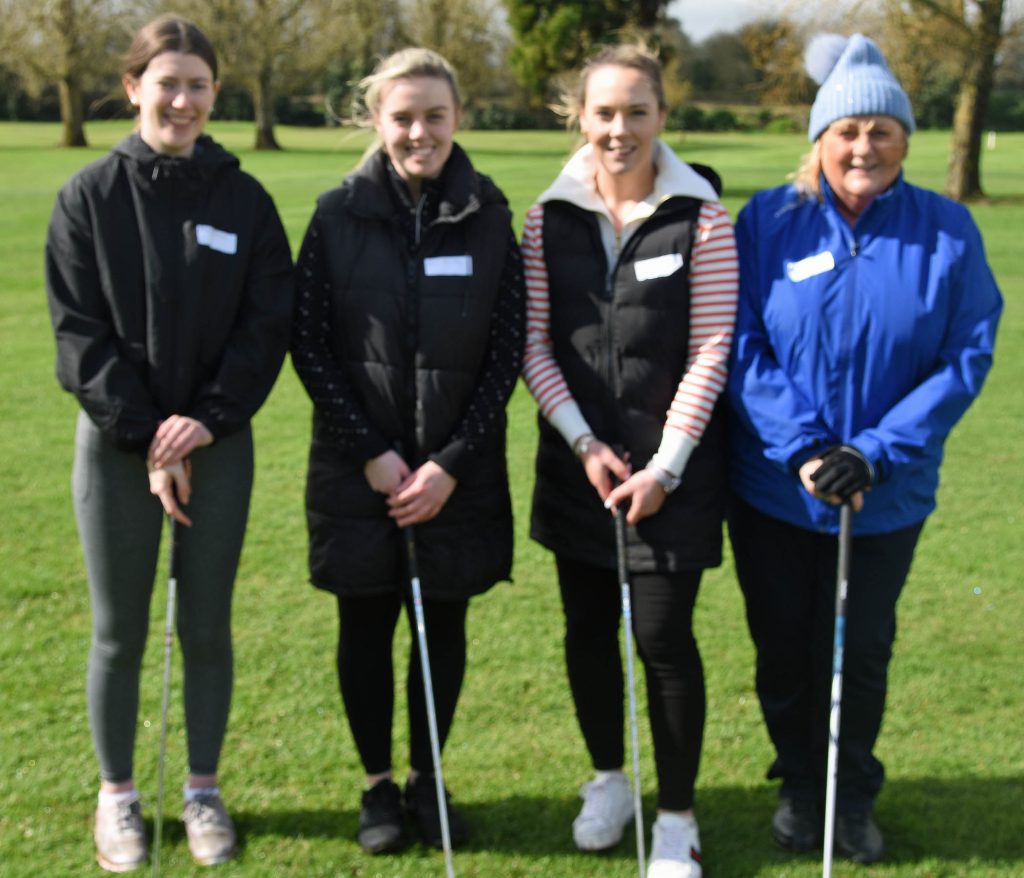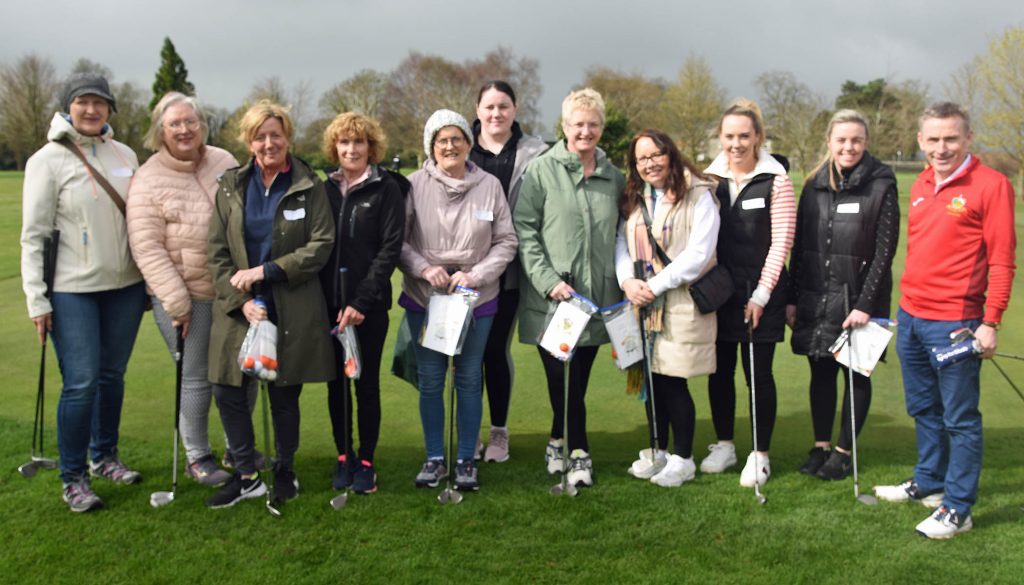 Ladies Getting Into Golf Programme.
1st April was the start of a 6 month "Getting Into Golf" programme.  Sat 1st and Sat 15th experienced a tremendous response from Ladies who never played this wonderful game before.  The Collage of photos express the extreme interest that Ladies have in getting into golf as a recreation and exercise event.  The programme covers a wide range of required skills to play the game comfortable.  Also included are golf technical instructions from a local golf Pro Shane Ryan.  The programme will continue every Saturday morning from 10am to 12 noon up to June 10th.   If anyone wants to join the programme contact Ladies Captain Mary Gilmartin. 087-7992355.
Week End Competition.
17th. April.  Prizes for winners of 14 hole competitions over the past few weeks.  Brendan Collins, Eamon Connelly, Shane Cashman, Michael Fogarty, Tom Quinlan,
Sean O'Sullivan, Liam Leahy, Tony O'Toole.  If you have any queries please contact Sean Lee on 087 221 8506
Spring League Results.
WINNERS DIV 1.  Dennis Ryan, Shamus Bourke, Joe Fahy, Lorcan Reilly.  2nd, Declan Kennedy, Ted Kennedy, Tom Quinlan, Martin Mullally.
WINNERE DIV 2.  Declan Russell, Jody Boyle, Paul Touhy, Tony O' Toole.  2nd.  Gary Russell, Donald Hayes, John Galvin, Pat O'Connell.
Best aggregate score Div 1.  Jerry Keegan (snr), Best aggregate score Div 2, Jerome Ryan, Draw for players that played all 4 rounds, Winner, Michael Bourke.
Inter Club Competitions.  Team Captains & Vice-Captains.
AIG Men's Jimmy Bruen Shield – Captain, Padraig Moloney , Vice- Captain, Denis Maher
AIG Men's Pierce Purcell Shield – Captain, Tom McGrath, Vice -Captain, Dinny Tuohy
AIG Men's Fred Perry Trophy Captain – Liam Leahy, Vice – Captain, (not picked)
Flogas Irish Mixed Foursomes – Captain's Declan Kennedy & Mary Gilmartin, Vice Captain Les Mason
Boys' Fred Daly Trophy – Captain, Pat O'Connell, Vice Captain (not picked)
J.B. Carr Tournament – Captain, Michael Carey,   Vice-Captain, Liam Daly
Munster Country Clubs Cup – Captain, Seamus Bourke
Mixed Foursomes Roscrea Golf Club – Captain's Declan Kennedy & Mary Gilmartin
Seniors.
13th.April.  After a delayed start where the course team worked miracles to get us out the weather then smiled on us leading to good scoring so in first place with 54 points were John Kirwan, Pat O'Connell and Jim Casey. In Second place with 51 points were Bernie O'Rourke, Mick Murphy, Les Mason and Michael Healy and in Third place with 50 points Sean Cashman, Tony O'Toole and Colm Dooley. Next week's Seniors will be on Wednesday as there are a number of the seniors who will be playing in Portarlington on Thursday.
50/50 Draw.
The 50/50 Draw is also available online for anyone who cannot make it to the club. http://templemoregolfclub.ie/membership/ [templemoregolfclub.ie]   Scroll down to the end of the FEE categories and select the 50/50 Buy Now.
Fees for 2023 are now due.
Full Member €350.  Couple €500.  Retired-unemployed couple €450.  Family (2Adults+their 2 children under 18yrs) €550.
Country Member €250. Beginner 2023 (1st.yr. 250) ( 2nd. Yr. 350).  Beginner Couple (1st.yr. 400) (2nd. Yr. €500). Students 3rdLevel College & Garda Students €125.  Juvenile (under 18yrs) €75.  Retired-Unemployed & Clergy €300.  Distance (outside 50k) €175.  Green Fees (no reduction for 9 holes) €20.
FEE Payment Options.
Club House: Use "FEE" drop box in Locker rooms.
On Line: http://templemoregolfclub.ie/membership/ [templemoregolfclub.ie]Select your Category and proceed by Pay Pal OR by Credit Card.
On-Line Banking Transfer; IBAN; IE21BOFI90445678133532, BIC; BOFIIE2D.
Contact any committee member.
Dates for your Diary. 
Getting into Golf. The next stage of the programme will be on Sat. April 22nd..
Seniors.  Every Thursday 10am. Refreshments afterwards in Club House.
AIG Men's Fred Perry Trophy.  Upcoming game v Tramore fixed for 27th May at 2pm. In Tramore.