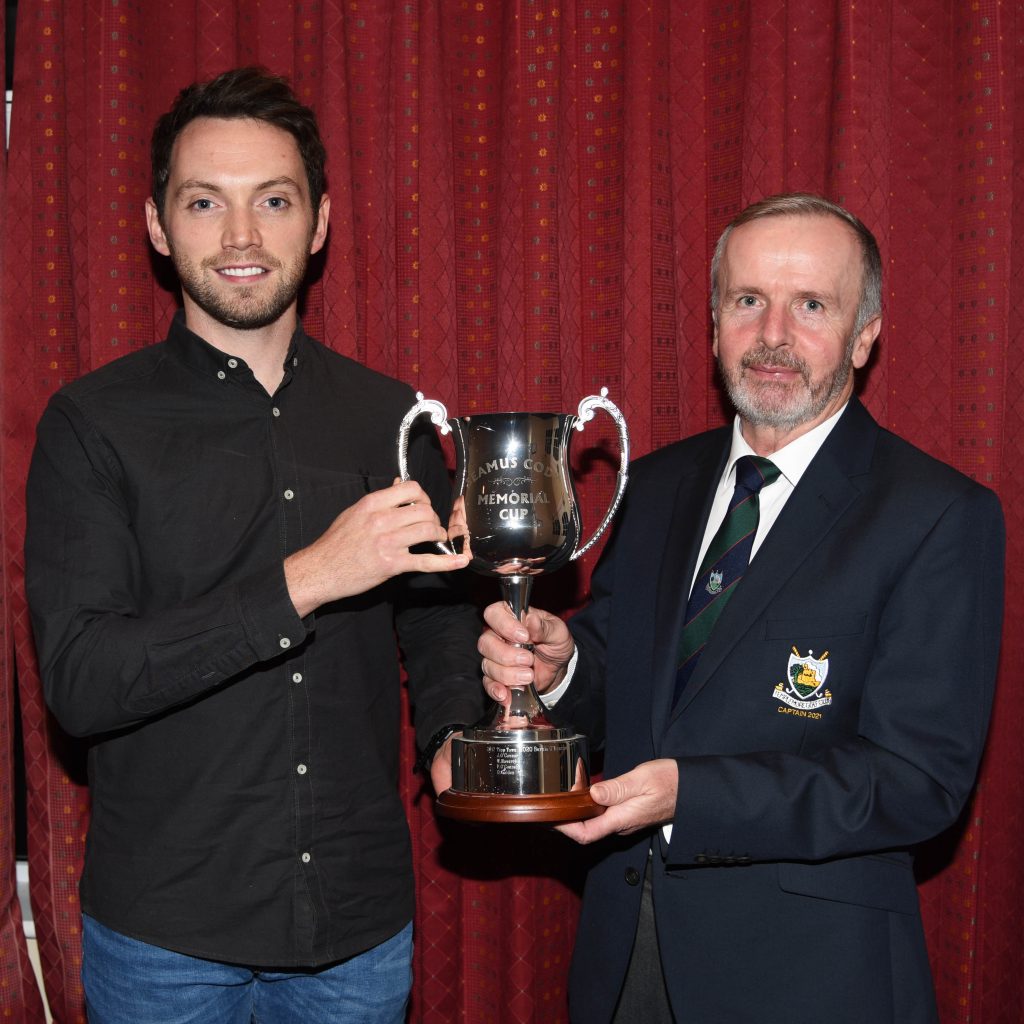 above photo.  Templemore Golf Club, Seamus Cody Perpetual Trophy Winner, Eoin Bourke, Grandson of Seamus Cody.  Presentation by Club Captain Dinny Maher.  (Photo by, Seamus Bourke)
Seamus Cody Perpetual Trophy.
Presented to the club by the Cody family as a recognition of the commitment and legacy from Seamus to the club.  Seamus was Captain in 1977 and President in 2005.  His dedication to the club is unquestionable in the landscaping, development and expertise on the maintenance of the equipment. His commitment contributed to the foundation of the current course layout. The 2021 competition for the Trophy was an 18h weekend competition.  16 were selected to compete in match play and resulted in the final between Seamus Bourke Son in law to Seamus Cody and his son Eoin, grandson of Seamus Cody.  An interesting final on Monday. 25th. Oct between " Father or Son". There was great tussle. Never more than one hole between both. All square going up the last hole when Seamus got snookered in a spinny resulting in a victory for Eoin.  "You can't beat the youth"  Well done Eoin.  Seamus Cody would be very proud.
7th. Nov. 3 person Waltz Team event over 14 holes.
1st. Team.  Joe O'Connor, Lorcan Reilly, Gerry Keegan 78pts.  2nd. Team.  Liam Daly, Seanie Gleeson, Tom McGrath 76pts.  3rd. Team.   Dessy Hennessy, Ted Kennedy, Pat Looby 74pts. on countback.  Next week 13th. and 14th. Nov. Teams of 3, two to count on each hole, holes 1 to 15.
6th Nov.  3 person Waltz Team event over 14 holes.
1st. Team.  Cathal Leahy, David Coleman, Brian Kennedy 74pts.  2nd. Team.  Pat O'Connell, Joe Hennessy, John Kirwan 73pts.  3rd. Team.  Ambrose Purcell, Phillip Ryan Jnr.  Phillip Ryan Snr. 69pt.
50/50 Draw.
Your continued support to the 50/50 is deeply appreciated as it is funding the purchase of new equipment.
Sunday night 7th November.   Donal Hayes. €150.
Seniors Results.
4th. Nov. 2021.  Another excellent turnout this morning and scores reflected that. 1st.  place with 50pts. were Ambrose Purcell, George Murray, George Collins, and Jim Casey.  2nd. place on a count back with 48pts. were Donald Golden, John Mullally, Frankie Shortt, and John Egan.   3rd. place also with 48pts. were Ger Clifford, Seanie Gleeson, and Joe Hennessy.   Xmas party reminder, our Xmas party will take place in Murphy's Templemore on Thurs. 9th. Dec. after golf. The cost will be €10 per person with the Seniors Committee picking up the reminder of the cost. Names will be taken up next week.
Covid 19 Guidelines.
Reminder. Players must sign in at the clubhouse door before teeing off.
Future Competition Dates.
13th. and 14th. Nov. Teams of 3, two to count on each hole, holes 1 to 15
Seniors. Every Thursday 9 AM.