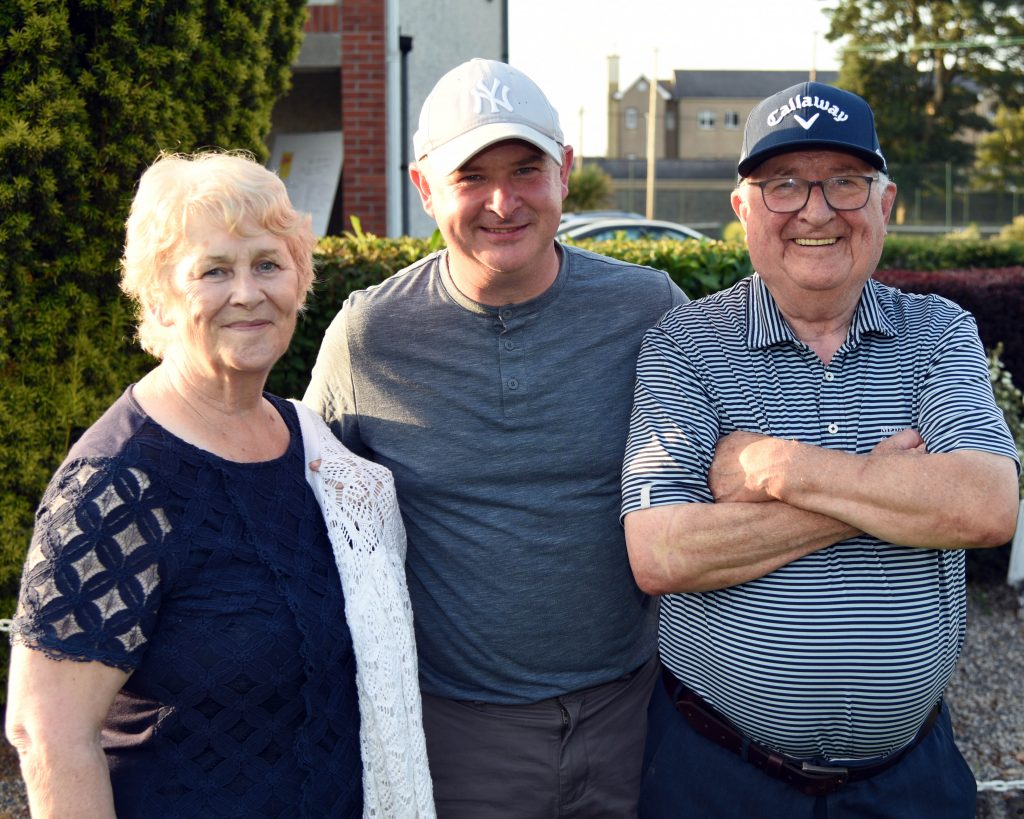 Templemore Golf Club Captains Prize Winner Family,  Mum Bernie Ryan, Phillip Ryan Jnr. Winner and Dad Phil Ryan Snr.  (Photo by Seamus Bourke)
Templemore Golf Club News.
50th. Year Historical Anniversary Classic.
Reminder;  Any member who cannot field a team of 4 and want to play in the Classic to put your name up on the Club WhatsApp to be included in a selected team for the 24th, Sat. 25th and Sun. 26th. The activities of the day will include an official ceremonial unveiling of a Plaque at 7pm on Friday 24th. as a reminder to players, visitors, and members of the future where it all started.  Support will be expected from all members to field a team and to invite outside non-members and all sporting clubs likewise. Prizes will be in excess of €3000, including, Ladies, Seniors and Non-GUI.   Also, every participant that takes part will be included in a draw for free 2022 membership.  This is a call for all Golf and Sporting Clubs in the region to support this project by entering a team and will be greatly appreciated.  Fee.  €100 for a Fourball team, €50 to sponsor a Tee Box and €60 for re-entry per team.
18hole S/F Competition.
11th and 12th. Sept..  Results; 1st. Philip Ryan(Snr) 39pts.  2nd. Cathal Leahy 38pts.  3rd. Jody Boyle. 38th. pts.  Full results on Master Score Board.
50/50 Draw.
Your continued support to the 50/50 is deeply appreciated as it is funding the purchase of new equipment.
12th. Sept. Aggie Tobin €135..
 Seniors Results.
Thursday 9th. Sept.  Many thanks for the turnout this morning, weather excellent and the scoring wasn't too bad either. In first place with 55pts. were Liam Daly, John Galvin, Jim Gleeson, and Seamus Ryan. 2nd. with 54pts. were Donald Golden, John Mullally, Pat Maher and Pascal Whelan. and in 3rd. place with 52pts. were Joe O'Connor, Pat O'Connell, Michael Maher and John Browne.   Reminder of our Club Classic which takes place over 3 days, 24th 25th and 26 September.
Covid 19 Guidelines.
Reminder.  Players must sign in at the clubhouse door before teeing off.
Future Competition Dates.
Club Classic.  Fri. 24th.  Sat. 25th. Sun. 26th.  September
Seamus Cody Cup. Date TBC.
Seniors. Every Thursday 9 AM.