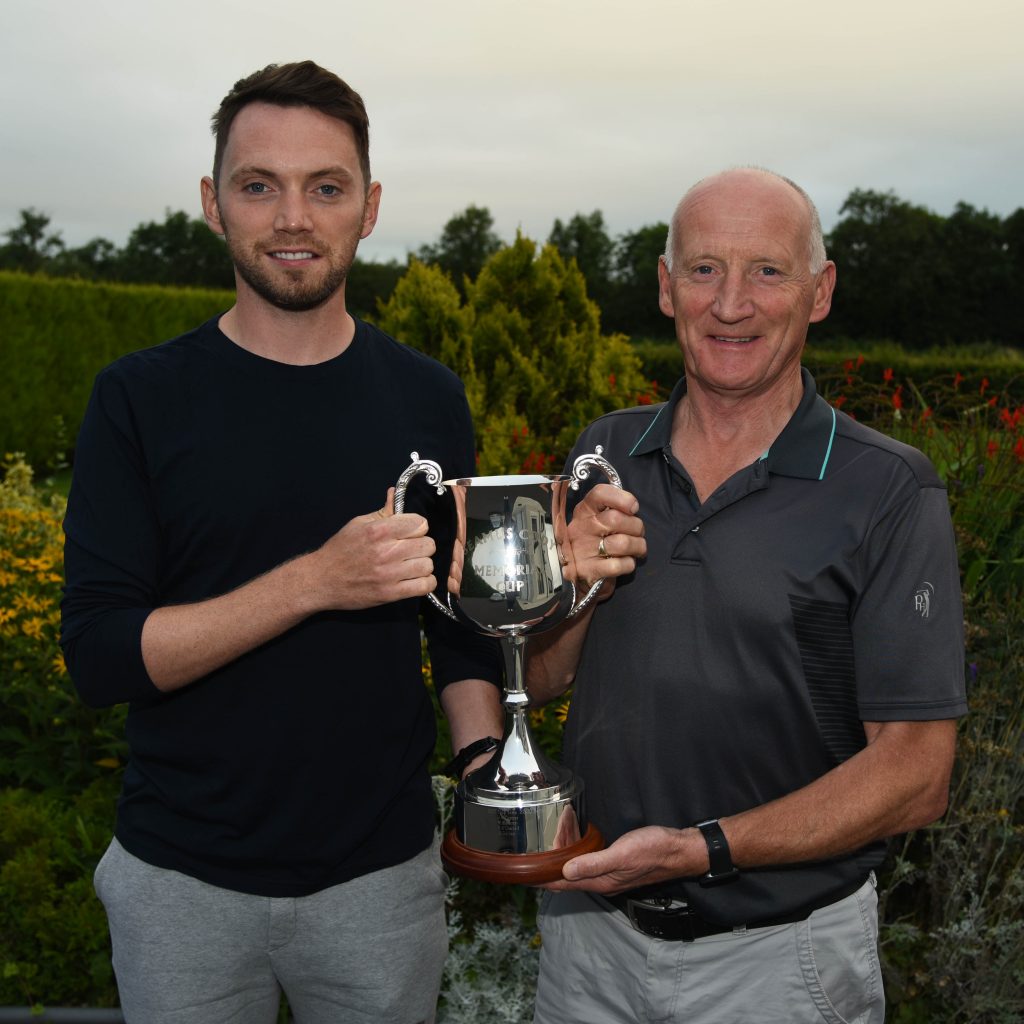 Templemore Golf Club.  Seamus Cody Perpetual Trophy, Competitors, Eoin Bourke Versus Dad Seamus Bourke.
 Templemore Golf Club News.
 50 Year Historical Anniversary Classic.
Time Sheets for the 24th, Sat. 25th and Sun. 26th. are been snapped up.  Book in your team without delay.  The activities of the day will include the unveiling of a Plaque as a reminder to players, visitors, and members of the future where it all started.  Support will be expected from all members to field a team and to invite outside non-members and all sporting clubs likewise. Prizes will be in excess of €3000, including, Ladies, Seniors and Non-GUI.   Also, every participant that takes part will be included in a draw for free 2022 membership.  This is a call for all Golf and Sporting Clubs in the region to support this project by entering a team and will be greatly appreciated.  Fee.  €100 for a Fourball team, €50 to sponsor a Tee Box and €60 for re-entry per team.
Fred Perry All-Ireland Trophy
The All-Ireland Quarter final took place in Knightsbrook Golf Club on Friday 3rd. September "VERSUS"  Connemara Isle Golf Club, Lettermore, Co Galway.  All the Templemore pairings played extremely well.  It was a close competition with each shot been matched by Connemara Isle which took the last pairing to the 23rd hole with the final putt going in favour to Connermara Isle.  Congratulations to Connemara Isle and we wish them well in the Semi Final at Strand Hill.
Seamus Cody Perpetual Trophy.
Presented to the club by the Cody family as a recognition of the commitment and legacy from Seamus to the club.  Seamus was Captain in 1977 and President in 2005.  His dedication to the club is unquestionable in the landscaping, development and expertise on the maintenance of the equipment. His commitment contributed to the foundation of the current course layout. The 2021 competition for the Trophy was an 18h weekend competition.  16 were selected to compete in match play and resulted in the final between Seamus Bourke Son in law to Seamus Cody and his son Eoin grandson of Seamus Cody.  An interesting final ahead between father and son. A proud competition for both the Cody and Bourke family.  Wishing both the very best of luck. May the best man win " Father or Son"
 18hole S/F Competition.
4th and 5th. Sept..  Results 1st. Ned Walsh 42pts. 2nd. Andy Ryan 40pts. 3rd. John Galvin 40pts. Full results on Master Score Board.
Ladies 18 Hole Stableford.
Tuesday 31st. Aug.  1st Agnes Tobin 42pts.  2nd. Mgt. Deegan 41pts.  3rd. Margaret Costigan 38pts.
Social Mix.
1st. Sept.  Winners, Breda O'Connell, Declan Russell, Tony O'Toole.
50/50 Draw.
Your continued support to the 50/50 is deeply appreciated as it is funding the purchase of new equipment.
5th. Sept. Marian Keely €140 euro.
 Seniors Results.
Thursday 2nd Sept.  An excellent morning was reflected by excellent scoring. All teams breaking 50pts, with the winners reaching 58pts, 1st Team, Paddy Bourke, Oliver Murray, Tom Hogan, and Joe Clarke.  In 2nd. place with 55pt. were Mick Murphy, Pat Maher, Tony O'Toole and Paddy Nolan and in 3rd. place on a count back with 54pts. were John Kirwan, Sean Gleeson, Christy O' Rourke and Michael Ryan. A Date for your diary, 28th Sept Tipp Town.
Bereavement.
Condolence to Bertie Keane on the passing of his sister Ansie Gleeson. Deepest sympathy to all the Keane and Gleeson Families.  Removal was on Monday 6th. from her son, Matt's residence in Knockmeal to arrive in The Church of All Saints, Killeen for Requiem Mass at 12.30. Burial was immediately after in Killenaive Cemetery.  May Ansie rest in peace.
 Covid 19 Guidelines.
Reminder.  Players must sign in at the clubhouse door before teeing off.
Future Competition Dates.
Club Classic.  Fri. 24th.  Sat. 25th. Sun. 26th.  September
Seamus Cody Cup. Date TBC.
Seniors. Every Thursday 9 AM.