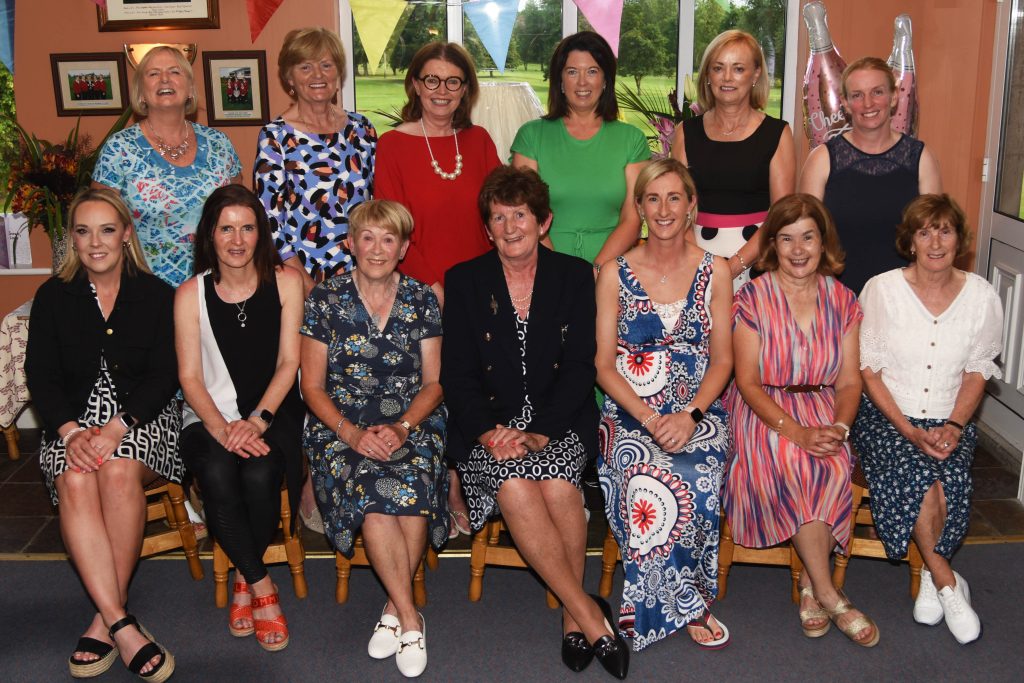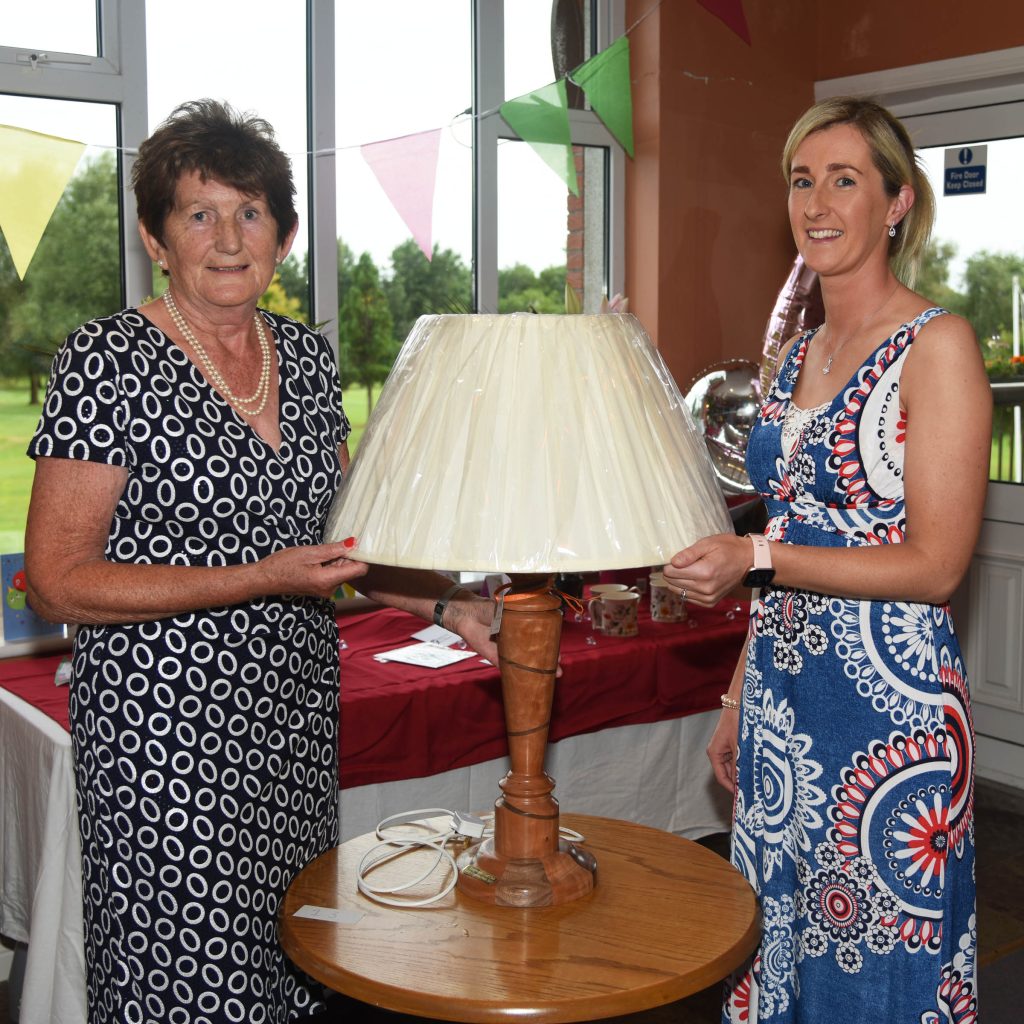 Templemore Golf Club,
Photo 1.  Ladies Captain Prize Winners,  B.R. L.R. Kay Brennan, Marian Keely, Mary Brennan, Marian Hodgins, Mary Hayes Kenny, Niamh Connolly, F.R. L.R. Carol Hassett, Helen Hayes, Mary Hogan,  Lady Captain Mary Gilmartin, Winner Michelle Hassett, Mary Anne Maher, Maureen Connolly.   (Photo by Seamus Bourke)
Photo 2.  Ladies Captain Prize Winner.  Michelle Hassett, Presentation by Lady Captain Mary Gilmartin.
Ladies Captain Prize.
8th. July.  Saturday.  Congratulations to our classy and stylish player Michelle Hassett for winning the lady Captain's Prize. She has the potential to be playing off single figures shortly . I wish her the very best . My sincere thanks to Dinny Maher and Pat for having the course in pristine condition, picture perfect , including an early rise of 6am to clear the course of debris following sat night's winds. Thanks to Seamus Burke for taking the photos and to the talented ladies committee for providing the entertainment with very many talented ladies members. My thanks to Vice Captain Les Mason and his wife Rosemary for attending our celebrations . The best of luck to our Boyne cup team on Wednesday, Seniors Ladies Golf.  Lady Captain Mary Gilmartin.
Appreciation from Men's Vice Captain, Les Mason.  We Thank Mary for the invitation it was a brilliant and most entertaining night as Mary said so many talented ladies original poetry and songs so many did a turn and the story telling was enthralling.  If I may steal a phrase "the craic was mighty"  Vice Captain, Les Mason.
Men's Captain Prize.
21st. July.Friday. The take up for the Captains Prize for Friday 21st July has reached its limit so no more entries can be accepted.  Best wishes to Captain Declan Kennedy.
Week End Results.
9th. July.  18th. hole Stableford .  On a Sunday of exceptional weather. In first place Donal Hayes with 38 points, and in second place Gerard Lyons with 37 points.
16th. July.  18th. hole Stableford.  1st. Matthew Bergin 40pts.  2nd. Ciaran Harssett 37pts.  3rd.  Johm Kiely 34pts.  Next weekend, 15th and 16th July, will be an 18 hole stableford  Golfer of the Year round 4. The competition is sponsored by The Templemore Arms prize fund to €200 and the 1st and 2nd prizes will be Net and the 3rd will be Gross entry is €10.
LMC.
11th. July, Tuesday.  Congratulations to Les Mason on winning LMC outing in Adare Manor yesterday. Also well done to Sean Cashman and Eamon Connolly who featured among the prize winners.
Ladies Beginners.
11th. July. Tuesday.  Ladied 18h. Stableford.  1st. Marian Hodgins 39pts.  2nd. Mgt. Deegan 35pts.  3rd.  Bridget Kennedy 34 pts.
Ladies Getting Into Golf.
12th. July. Wed.  A sincere thank you to Pat Dunne for an excellent practical informative session on the rules of golf to our ladies last evening. Appreciation from Lady Captain Mary Gilmartin.
Social Mixed
12th. Wed.  Results.  1st. Team.  John Stapleton, Joe Fahy, Evelyn Lyons.  2nd Team, Michael Fogarty, Liam Daly, Mary O'Connor.
Men's Senior Golf.
13th. Thurs.  On a day that started out with perfect golfing weather Ten teams enjoying the course In excellent condition the scores reflected this in first place with 55 Paddy Fogarty, Pat O'Connell,Donal Golden and Tom Ryan.  In second place with 54 on countback Ted Kennedy, Tom Kenny Christie O'Rourke and Phil Ryan Snr. In Third also with 54 on countback Paudie Butler, Pat Maher, Colm Dooley and John Stapleton.
Sympathy.
14th.July Fri.   The club expressed sincere sympathy to John Moloughney on the death of his brother Seamus in Australia.  May he rest in peace.
Seamus Cody Cup.
16th. July.  Knock Out Semi Final.  Paul Touhy V Michael Delaney.  Tony O' Toole V Mick Carey.
Juvenile Academy.
17th. July.   Lessons will continue on Monday at 10 am. Cost €5. Lessons for Beginner Ladies will follow at 11 am. It is hoped to run the lessons for 6 or 7 weeks.  Contact Pat O'Connell 087-9205821 by Text or just arrive on the day at 9.45 am.
Dates for your Diary. 
21st, 22nd and 23rd July Captains Prize.
12th. Aug.  Sat. Lady's Presidents Day.
26th. Aug. Sat. & Sun. 27th .  Rody Cawley Presidents weekend day
1St. Sept.  Fri, Sat, 2nd, Sun, 3rd, Sept. Classic Weekend.
Social mixed will continue on Wed's at 6pm.
Seniors.  Every Thursday 10am. Refreshments afterwards in new Club House "GreenView Restaurant".
P.S. Results for the following next week.
12th. July. Wed.  Templemore Ladies v Rathdowney Boyne Cup.
17th. Monday. Fred Perry. Templemore lost 4 to1 against Dungarvin Golf Club, The Second Leg is being played in Templemore at 2.30 on Monday 18th.
.