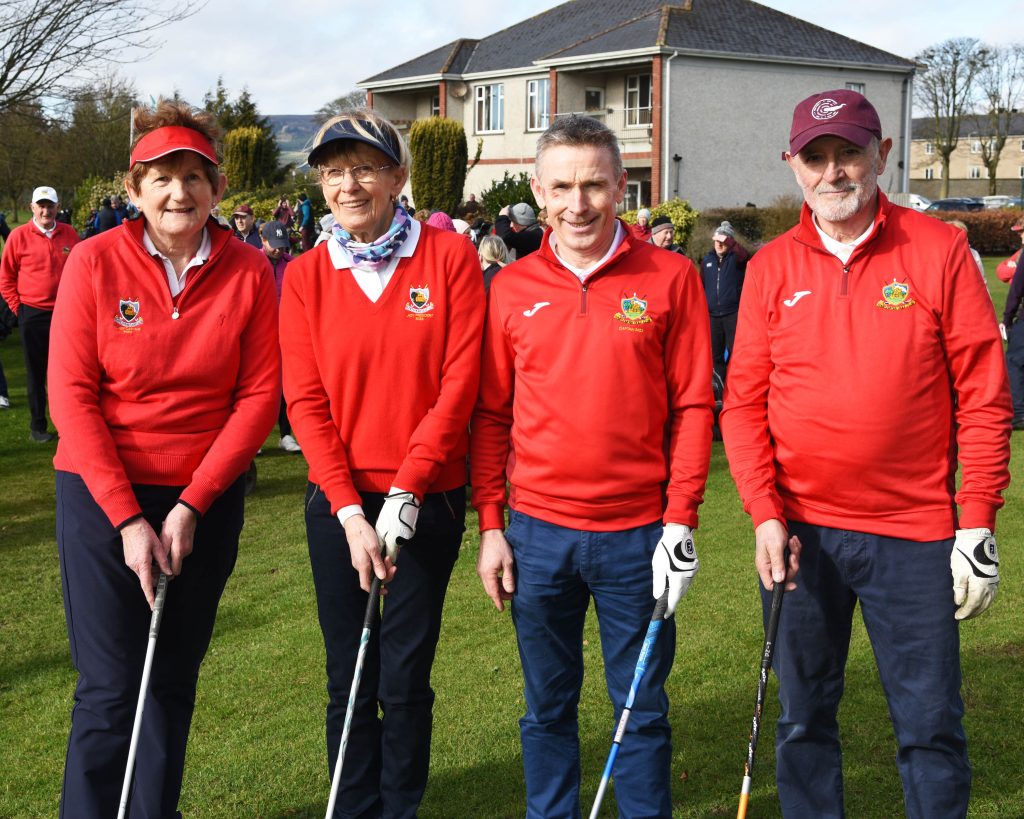 Templemore Golf Club Grand Reopening of Golf Season 2023.  L.R. Lady Captain Mary Gilmartin, Lady President Margie Costigan, Captain Declan Kennedy, President Rody Cawley. (Photo by Seamus Bourke)
Templemore Golf Club Grand Reopening of Golf Season 2023.
Sunday 19th Feb.  It was a splendid perfect day for golf.  The course was in excellent condition resulting in a record attendance and fantastic to see all colours of red out on the course all creating a great BUZZ and Vibrancy.
Captain Declan Kennedy appreciation.
Lady President, Lady Captain, Mr Present, Vice-Captain, former President of Ireland, Past Captains and Presidents, committee members and all fellow golfers.  I want to thank you all sincerely for your attendance today, it's wonderful and very encouraging to see such a great turnout. This year Lady Captain Mary Gilmartin is introducing a "Programme for Getting into Golf" for the ladies.  The men will also run something similar this year. I would like to encourage you all to promote the club to all your friends or anyone who may like to join. I hope everyone enjoys the golf today and I wish you all a wonderful year of golf ahead.  It's great to be among friends in a sport we all love, what more could we ask for.  "Golf is for Everyone"
Lady Captain Mary Gilmartin Appreciation.
A Great day, thanks for all the help by our two committees. The Course in superb condition great credit and thanks to Dinny Maher and Pat Shelly. To our competition secretaries for all their hard work and forfeited playing today including Les Mason, Marian Keely, Sean Lee and Mick Keely.  Thanks to all members who participated.
A special mention also to the ladies for the catering today. Thanks again to all who made the day happen and I hope to see you all soon again on the golf course.  Bring on more great days of Golf in Templemore.
Captains Drive-in Competition.
On a day where the weather smiled on the 20 teams. The Captains Drive was a great success and there was a big crowd for the excellent refreshments afterwards.
In First place with 27.7 Golfer of the year 2022 Ned Delaney, Tommy Foley, Frank Russell, and Mary Anne Maher.  In Second place with 29.1 Michael Purcell, John Hassett, Michael Cahill, and Anna Cashman. In Third place with 29.2 was Dinny Maher, Dessie Hennessy, George Collins, and Biddy Gleeson, and in 4th place with 29.4 was Trevor Quinn, Mary Hogan, Gerry Hayes, and Seanie Gleeson.
Week-end Results.
18th. 19th. Feb.  The weekend competition saw a fair turnout and the winner with 21 points was Bernie O'Rourke.
Spring League.
Now with the golf season starting to move up a gear the Competition Committee announce the start of the spring league 2023. The dates for the spring league are.
Round 1.  27th. February, Finish 12th. March.  Round 2, 6th. March, Finish 19th. March.  Round 3, 13th. March,  Finish 26th. March.  Round 4, 20th. March,  Finish  2nd. April.
If you wish take part of the spring league names by 6 pm. Thursday 23rd February. Names can be entered on the sheet in the men's locker room or via WhatsApp. (Please ensure that you specify Spring League on WhatsApp).  Entry fee will be €20 further details to follow.
Seniors.
16th.Feb.  A day when there were no delays due to frost saw a prompt start and despite being back on the big boys full course there was great scoring from the eight teams that turned out.  In first place with 54 points Seamus Bourke, Pat O'Connell, John Mullally and Jim Gilmartin. In second place with 53 points Bernie O'Rourke, Gerry Hayes, Tom Kenny and Michael Healy and in third place with 52 points were John Kirwan, Seanie Gleeson, George Collins and James Murray. Great shooting lads
50/50 Draw.
The winner of the 50/50 draw takes home a healthy € 160 was John Hassett.
The 50/50 Draw is also available online for anyone who cannot make it to the club. http://templemoregolfclub.ie/membership/ [templemoregolfclub.ie]   Scroll down to the end of the FEE categories and select the 50/50 Buy Now.
Fees for 2023 are now due.
Full Member €350.  Couple €500.  Retired-unemployed couple €450.  Family (2Adults+their 2 children under 18yrs) €550.
Country Member €250. Beginner 2023 (1st.yr. 250) ( 2nd. Yr. 350).  Beginner Couple (1st.yr. 400) (2nd. Yr. €500). Students 3rdLevel College & Garda Students €125.  Juvenile (under 18yrs) €75.  Retired-Unemployed & Clergy €300.  Distance (outside 50k) €175.  Green Fees (no reduction for 9 holes) €20.
FEE Payment Options.
Club House: Use "FEE" drop box in Locker rooms.
On Line: http://templemoregolfclub.ie/membership/ [templemoregolfclub.ie]Select your Category and proceed by Pay Pal OR by Credit Card.
On-Line Banking Transfer; IBAN; IE21BOFI90445678133532, BIC; BOFIIE2D.
Contact any committee member.
Dates for your Diary. 
SPRING League. Round 1.  27th. February, Finish 12th. March.
Seniors.  Every Thursday 10am. Refreshments afterwards in Club House.