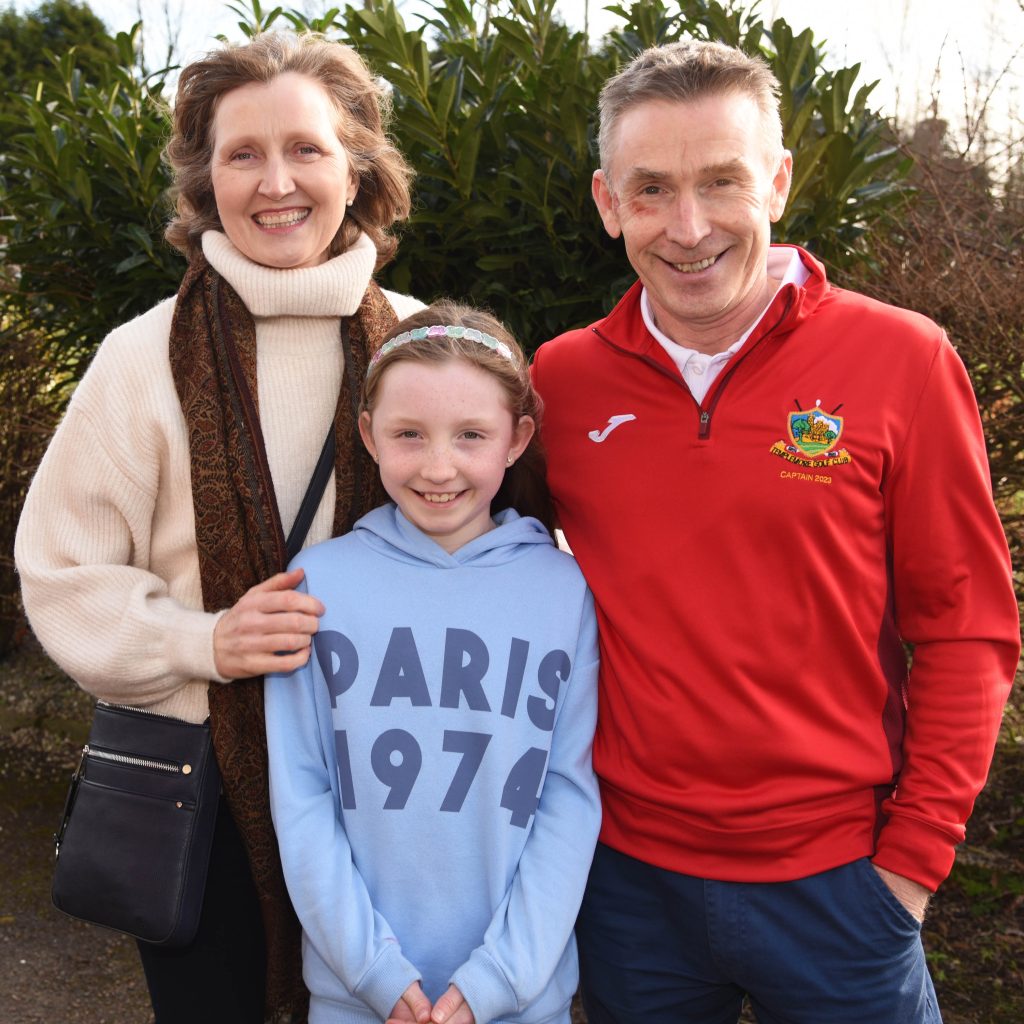 Templemore Golf Club Captain, Declan Kennedy and family, Brenda (Wife) and Hazel (Daughter) all enjoying the Captains Drive-in day. (Photo by Seamus Bourke)
Spring League.
27th. Mon. February.  Now with the golf season started the Competition Committee announce the start of the spring league 2023. The dates for the spring league are.
Round 1.  27th. February, Finish 12th. March.  Round 2, 6th. March, Finish 19th. March.  Round 3, 13th. March,  Finish 26th. March.  Round 4, 20th. March,  Finish  2nd. April.
Teams are now posted in the men's locker room and via WhatsApp. Entry fee is €20 to be paid on start of 1st round, €3 per re-entry.  If you have any queries please contact Sean Lee on 087 221 8506 good luck and enjoy. The Competitions Committee.
Week-end Results.
25th. & 26th. February, 14 hole Competition S/F. This was the first of 2023 competition before the commencing of the spring league.   Results are posted on the members WhatsApp.
Seniors.
23rd. Feb.  After a frost delay nine teams got out on the day that warmed up through the rounds.  In 1st. place with 53 points, Donal Golden, Ollie Murray, George Collins, and James Murray.  In 2nd. place with 52 points, Paddy Bourke, Pat O'Connell and John Stapleton.  In Third place with 49 points, John Kirwan, Gerry Hayes, Jim Casey and Tommy Deegan. Well done all.
50/50 Draw.
The 50/50 Draw is also available online for anyone who cannot make it to the club. http://templemoregolfclub.ie/membership/ [templemoregolfclub.ie]   Scroll down to the end of the FEE categories and select the 50/50 Buy Now.
Fees for 2023 are now due.
Full Member €350.  Couple €500.  Retired-unemployed couple €450.  Family (2Adults+their 2 children under 18yrs) €550.
Country Member €250. Beginner 2023 (1st.yr. 250) ( 2nd. Yr. 350).  Beginner Couple (1st.yr. 400) (2nd. Yr. €500). Students 3rdLevel College & Garda Students €125.  Juvenile (under 18yrs) €75.  Retired-Unemployed & Clergy €300.  Distance (outside 50k) €175.  Green Fees (no reduction for 9 holes) €20.
FEE Payment Options.
Club House: Use "FEE" drop box in Locker rooms.
On Line: http://templemoregolfclub.ie/membership/ [templemoregolfclub.ie]Select your Category and proceed by Pay Pal OR by Credit Card.
On-Line Banking Transfer; IBAN; IE21BOFI90445678133532, BIC; BOFIIE2D.
Contact any committee member.
Dates for your Diary. 
SPRING League. Round 1.  Commenced on 27th. February, Finish 12th. March.
Seniors.  Every Thursday 10am. Refreshments afterwards in Club House.