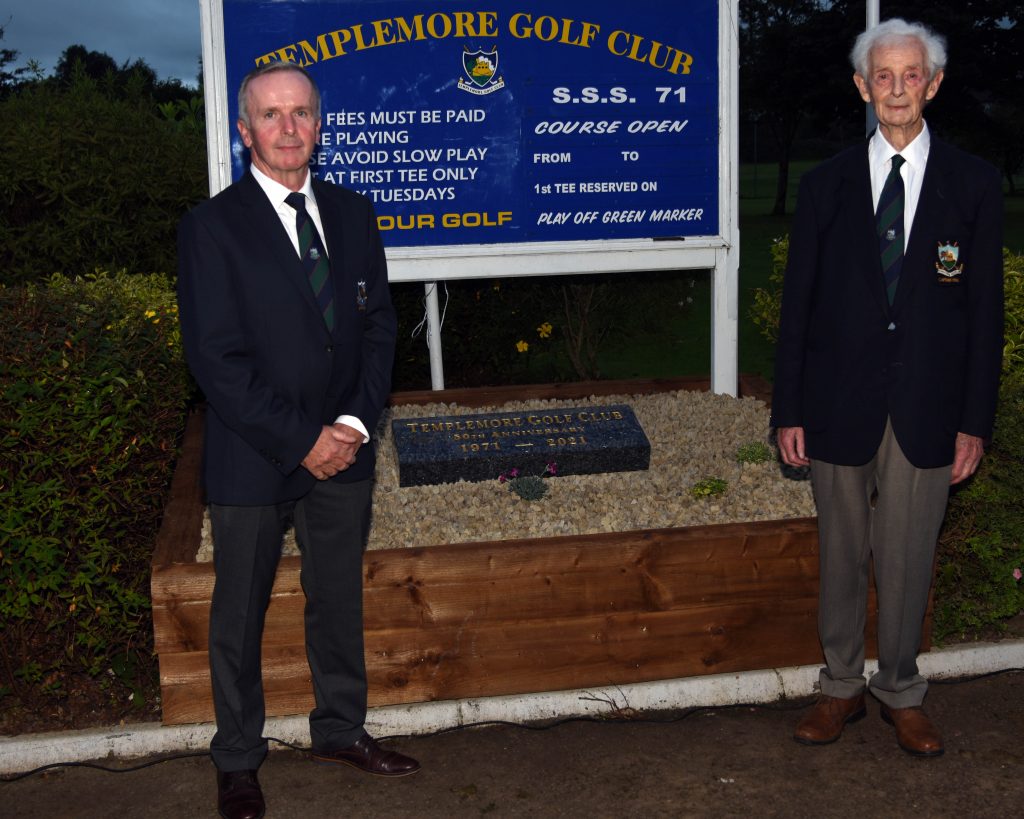 Templemore Golf Club 50 Year Anniversary, Unveiling of Commemoration Plaque, Club Captain Dinny Maher, and Pat Costello, who chaired the First meeting in 1971. Photo by Seamus Bourke.
50th. Year Historical Anniversary.
Friday evening 24th. Sept. at 7pm. A large gathering of Club Members, Captains, and Presidents and supporters gathered to witness the unveiling of a commemoration Plaque, by Pat Costello who chaired the first club meeting on 28th. Sept. 1971.  Pat was Captain in 1984 and President in 1986.  Pat gave a historical speech on that first meeting and the past officers and comrades some who are no longer with us. At that 1st meeting the officers elected were, Chief Superintendent Michael Enright was elected as 1st. captain and Sergeant Ned Sheppard was elected as 1st. President.  In June 1974, the club was affiliated to the Golf Union of Ireland (GUI)  with an official opening on 9th. June with a blessing by Cannon Noonan.  On 28th. of August 1974, the ladies held a meeting in Foley's Hotel to form a committee to organise golf competitions. Mrs. Patsy Kelly was elected Secretary of the Lady's Club. In December 1974,  the Lady's club was formally affiliated to I.L.G.U. having been proposed by Thurles and Seconded by Roscrea Golf Clubs. An AGM was held in 1975, 26 ladies attended and Mary Long was elected as the first Lady Captain of Templemore Golf Club.   The 50th anniversary presentation format commenced by Competition Secretary Dinny Touhy, thanking all who attended and all who gave of their time and also to all the sponsors, who with their support which made this a memorable and very successful event for the presentation and the Classic.   He then introduced Lady President Josie Moloney to address the gathering.  Josie gave a memorable account of the lady's contribution to the club over the past 50 years.  Followed by Club Captain Dinny Maher who also gave a detailed account on the progression of the club during the last 50 years.  He complemented all members for their voluntary hard work over the years and a detailed account on the National performance by Club Teams who represented the Club with great pride.  He made a special complement to all the past Captains and Presidents, as it was their visions that shaped the course to its present high standard.  He particularly complemented and acknowledge the role of John Moloughney not only for his contribution work in this club but also because in Ireland he held the highest office in Golf as President of the Golf Union of Ireland, which the club is very proud that this prestigious position was achieved by a member and will be recognised by new members into the future.   Fr Domonic was then called to offer his blessing to the club and all who attended and to past members who could not be here for this memorable occasion.  Captain Dinny Maher concluded in mentioning that in-excess of 28 pennants have been won by the club over the past 50 years, from the first Pennant won by the ladies in 1987 right up to date Templemore Golf Club has competed at the highest level and that is a great source of pride to every member of this club.  The proceedings concluded with a reception in the club house for all.
Classic Competition Results;
26th. Sept. Results; 1st. Team, M. Fogarty, P. Fogarty, K. Fogarty, Ml. Fogarty. 2nd Team, T. Kennedy,  J.Looby,  P Kennedy, D. Kennedy.  3Rd. Team. D Coleman, D Hogg, T. Quinn. B. Mason.  Non GUI. Team.  P,O'Connell, T. O'Toole, Colin O'Toole. Josie Bourke.  Ladies 1st Team. Mary Ann Maher, kay Brennan, Mary Ryan, Margie Costigan.  Nearest to the pin, Timmy Tuohy, Birdie Draw Par 3, Cathal Leahy.  Raffle Result, 1st. Declan Kennedy. 2nd. Joe Fahy, 3rd, Padraig Moloney.  Free Membership Draw 2022, Pat Fogarty.
Classic 50/50 Draw.
Your continued support to the 50/50 is deeply appreciated as it is funding the purchase of new equipment.
26th. Sept. Sarah Jayne Cawley 160euro.
Classic Seniors Results.
Many thanks to all our senior members for their support for this Seniors Classic. We had a excellent turnout of 9 teams. The great weather was welcome and some say is a sign of good living. The results of this was in first place with 56pts. points were Seamus Bourke, Liam Daly, Les Mason, Jim Casey. 2nd. with 52pts. Joe Fahy, Donald Golden, George Collins, and Seamus Ryan. and in 3rd. place on a count back with 51pts. were Joe O'Connor, Pat O'Connell, Tony O'Toole, and PJ Leahy.   We play in Tipp Town next Tuesday , if your interested golf meal and prizes will cost €30 per player and names must be in for the draw by 5pm tomorrow evening. And to keep you on your toes, our regular Thursday morning golf will take place next Thursday 30th. . So get your name in before 6pm. next Tuesday evening.
Covid 19 Guidelines.
Reminder. Players must sign in at the clubhouse door before teeing off.
Future Competition Dates.
Vice Captains Prize. Oct. Date to be confirmed.
Seamus Cody Cup. Date TBC.
Seniors. Every Thursday 9 AM.
.