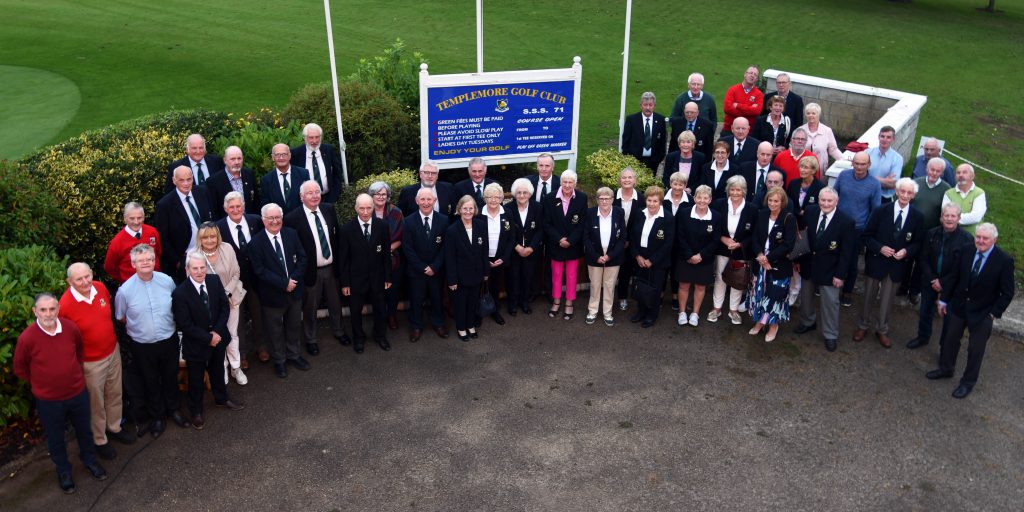 Templemore Golf Club 50th. Anniversary group of Captains, Presidents, past and present, members and friends.   (Photo by Seamus Bourke)
50th. Year Historical Anniversary.
The occasion was classic, a brilliant turn out of Captains, Presidents, past and present, members and friends. It was fantastic to see all the past Captains and Presidents in full Club formal attire.  An indication of the wonderful bonding that exists in the club and the memories of the club activities and developments and stories over the past 50 years. All were applauded for the contribution that they all made to the foundation of the current Club.
The Classic.
What a Classic.  The response and support was such, that it succeeded the expectation in returns of what was anticipated.  Another example of the high esteem that the club has from its members, local businesses, communities, and Golf Clubs across the country that gave great support to the occasion.  A big thank you to all.
18 Hole S/F Results.
3rd. Oct. 2021.   1st. Tom Quinlan 39pts.  2nd.  Mick Carey 36pts.  3rd. Oliver Murray 35pts.
Vice Captains Competition.
Sat 9th. and Sun. 10th. 18hole S/F.   Vice-Captain Jim Ryan, currently the club Handicap Secretary appreciates all the hard work into getting the course ready for competitions and especially this one as winter conditions are now upon us.  This will be the last major competition of the season and full support would be great.   Booking is now available on the "Master Scoreboard" members web site.
Classic 50/50 Draw.
Your continued support to the 50/50 is deeply appreciated as it is funding the purchase of new equipment.
3rd. Oct. Bernie ó Rourke. €150.
Seniors Results.
Thurs.30th. Sept.  Senior's results. We had a good turnout of 7 teams which was excellent considering all the golf played over the past week and the cold damp weather we encountered this morning which was reflected in the scoring. The winners on 49pts. were Ger Clifford, Donald Golden, Mick Murphy, and Les Mason, 2nd .on a count back with 48pts. were Paddy Bourke, George Collins, Christy O' Rourke, and Seamus Ryan. And in 3rd. place also with 48pts. were Joe O'Connor, Seanie Gleeson, John Egan, and Jim Casey. There were two other teams on 48pts, but lost out on the count back.
Covid 19 Guidelines.
Reminder. Players must sign in at the clubhouse door before teeing off.
Future Competition Dates.
Vice Captains Prize. Oct. 9th. and 10th.
Seamus Cody Cup. Date TBC.
Seniors. Every Thursday 9 AM.