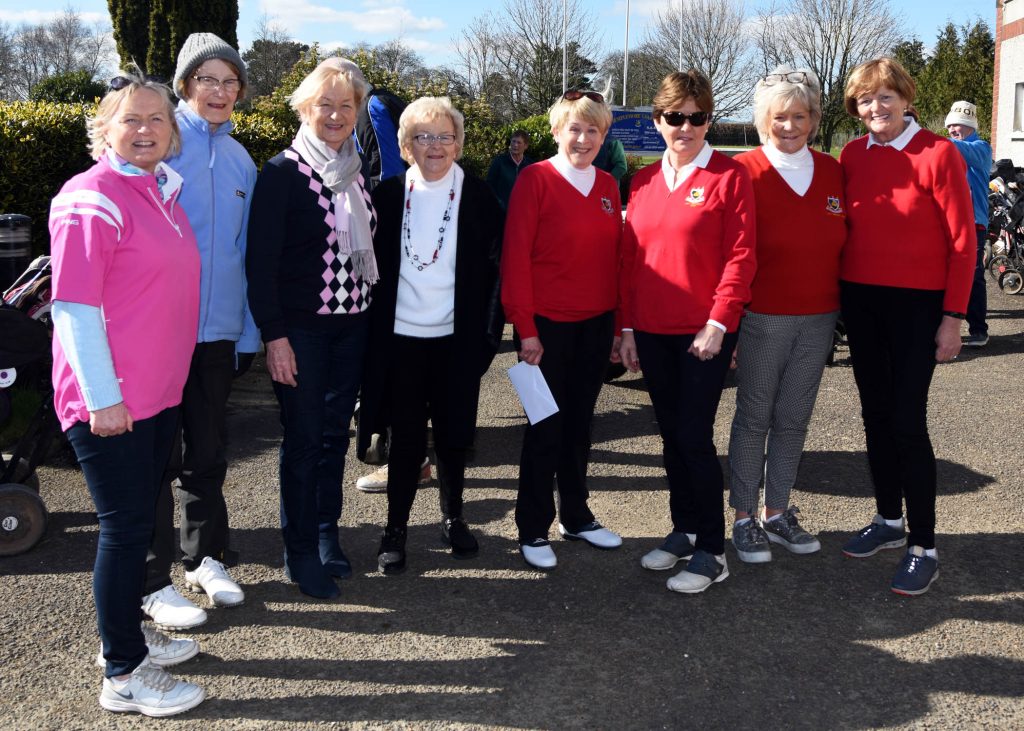 Templemore Golf Club Ladies Captain Day.  L.R. Kay Brennan , Olivia Collins, Margaret Deegan, Maura Sheehan, Lady Captain Mary Hogan, Lady President Mary Butler , Josie Moloney, Marion Keely. (Photo by Seamus Bourke)
Fred Perry Trophy Victory for Templemore.
Congratulations to Leam Leahy and his team in a decisive victory over Clonmel in Clonmel with a 4/1 win.  On Thursday 4th. May.  The next round will be versus Thurles at home in Templemore.  The Team;  Dinny Maher, Padraigh Moloney, Ger Clifford, Declan Russell, Tom McGrath, Ambrose Purcell, Seamus Bourke, Joe Fahy, Dinny Touhy, Bertie Keane.
Fred Perry Championship.
An inter-club four-ball championship for teams of 10 players, all of whom must be over 55, was named in honor of the former GUI President and Connacht Branch stalwart who served with distinction on the West of Ireland Championship Committee for 42 years before his death on March 3, 2018.  Fred Perry guided generations of Irish golfers through the highs and lows of championship golf.  "Fred was a one off," says former GUI President John Moloughney. "He was committed to golf and the ethos of the game. He was a father figure in Irish golf."  His immense stature stemmed from his unparalleled commitment to the game.
Competition Results.
7th-8th May Results;   18Hole Stableford.  1st. Kevin Fogarty 43pts.  2nd. Ned  Walsh 40 pts c/b.  3rd. Tom Stapleton 40pts.
The Social Mixed Scramble.
The Scramble will resume next Wed. May 11th. There will be 2 draws, 5.30 and 6.15 . Names will be taken from 5 pm onwards. €5 entry with tea and sandwiches upstairs afterwards. This is a social competition and we encourage all members to come along and enjoy .  Captain Jim Ryan expressed thanks to the Ladies committee. And also gave encouragement to any new members that joined the club in the last few years to try attend over the coming months. The mix is a great way to get to know your fellow members.
Ladies Golf; 
3rd. May. 18hole Stableford.  1st. Josie Bourke 29pts.  2nd. Kathleen Maher 29pts. Mary Butler 28pts.
4th. May. 18Hole Stableford.  1st. Mary Hayes 35pts.  2nd. Margaret Deegan 31pts.  3rd. Shelia Delaney 31pts.
Club membership Fees.
Membership is now due. No fee means no entry to club competitions going forward, Master Score Board for Tee Bookings and Members WhatsApp.
Fees can be paid to any committee member, or placed in the FEE Box in the Locker room.  Alternative, you can pay on the web site.  http://templemoregolfclub.ie/membership/ [templemoregolfclub.ie]  All fee rates are on the Web Site.
Golf for Everyone Competitive Membership Fees in Templemore.
Gent/Lady.   €300.  Husband & Wife/Partners. €450.   O.A.P. Husband & Wife/Partners. €350.  Family (Children under 15yrs.) €500.  Country Member. €200.  Beginner (Lady/Gent). €200.  Husband & Wife/Partners Beginners.  €350.  Student 3rd Level & Garda Student.  €100.  Juvenile (Under 18yrs).  €50.  OAP & Clergy. €250.  Distance (Outside 50K)  Lady & Gent.  €150.  Green Fee. (No Reduced Fee for 9 holes).  €15.   Visit the club web site for on-line payment or contact any committee member.
50/50 Draw.
8th. May Winner, John Egan, Cow Park. €120.00.
REMINDER;  50/50 Draw is also available online for anyone who cannot make it to the Club.  http://templemoregolfclub.ie/membership/ [templemoregolfclub.ie]
Seniors Results.
5th. May.  We had 6 teams out this morning on a grand day for golf.  1st. 54 pts.  Paudie Butler, Mick Murphy, Ger Hayes, Paschal Whelan.  2nd. 49 pts. John Kirwan, Pat O Connell, Tom Hogan, Paddy Nolan. 3rd. 47 pts. on a count back Paddy Fogarty, Jim Gleeson, John Egan, Jim Casey.
Future Competition Dates.
Mixed Social.  Wed. 11th. May.
Seniors. Every Thursday 9 AM.
Advance Notice;  JK Bracken's Golf Classic.  (Dates Changed)  Classic has been moved from 3rd.& 4th, of June to 10th. & 11th. June.  Course will be closed to members on Friday 10th. and Saturday 11th. June.
Others Dates for your Diary.
Mary Hogan Ladies Captain's Prize Tuesday 5th. and Saturday 9th. July.
Mary Butler Ladies President Prize Saturday 6th. August.
Jim Ryan's Captain's Prize Friday 22nd. to Sunday 24th. July.